Remembering Jeffrey Michael Bird
November 11, 1981 - February 13, 2017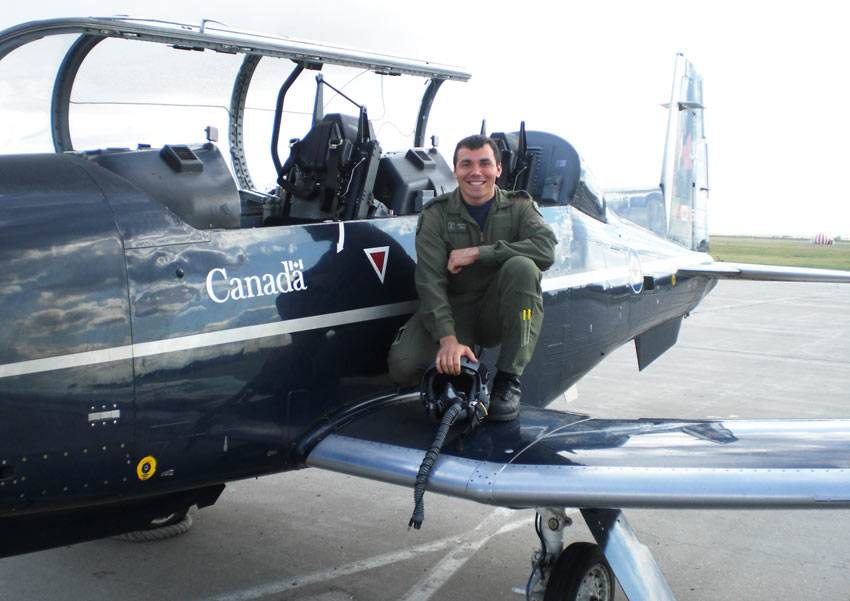 Jeff Bird will be fondly remembered by the entire Mount Royal community, particularly those who had the opportunity to get to know him through the aviation program.
"Jeff was an amazing character to be around," says Robin Robinson, a second-year aviation student. "He was incredibly friendly and helpful. There were times when you wouldn't even have to ask for help because Jeff would already be doing it."
Leon Cygman, chair of Mount Royal's aviation program, adds, "Jeff left us with a mark that we won't forget, as far as what he did for our school in the short time he was with us. He inspired our students and he obviously had a passion for his family, his kids, flying and service to our country."
Prior to becoming a flight instructor at Mount Royal, Bird was a well-respected member of the Royal Canadian Air Force (RCAF) for over a decade. First posted to 4 Wing Cold Lake, he completed his flight training in Portage La Prairie, Man., Moose Jaw, Sask. and Gagetown, N.B., and was awarded his wings in 2009. Next posted to the 408 Tactical Helicopter Squadron in Edmonton, Bird was deployed to Afghanistan for Operation Athena, Roto 11, from March to September 2011. In 2012, he was posted to Moose Jaw as an instructor pilot until his retirement from the RCAF in 2016.
Lieutenant-Colonel Chris Morrison was 35-year-old Bird's deputy commanding officer. "'J-Bird was a term of endearment we used for him," says Morrison. "Jeff was an absolute first-rate person. Incredibly positive, very friendly, very compassionate ― definitely the type of person you want to be spending time with."
Morrison says the military family is very small in Canada, even more so in the Air Force, where everyone is part of a close-knit group. He flew with Bird for close to 400 hours in just over a year, and describes him as an exceptionally competent pilot.

Bird was born and raised in Calgary, graduating from Lord Beaverbrook High School. He earned a degree in mathematics at the University of Calgary. While working at Westfair Foods, he met his wife Carly. They had two young children, daughter Celeste and infant son Shane.
At Bird's memorial service, Carly told the packed Bella Concert Hall that being a dad was what Jeff was meant to do in this life. "Without a doubt, it was by far his most proud accomplishment."
"This is someone who touched so many lives," says MRU President David Docherty. "You saw it (at the memorial) through the people talking and in pictures. You heard it in the words that were spoken. This is someone who people loved to be with, and he loved to be with them."
Jeff is also survived by his mother Dinah Kruze (Bob), father George Bird (Anie) brother David Bird (Ashley) and numerous aunts, uncles, cousins and friends.
---
As a reminder, counselling services are available for employees through Homewood Health at 1.800.663.1142. Then please hit number 1, ask for a counsellor and reference Mount Royal.
Additionally, MRU's Multi-Faith Chaplaincy (F122) has a team of chaplains representing a variety of faith traditions, and is available on campus for drop-in at any time between 8:30 a.m. and 4:30 p.m.