Remembering Reynold (Reyn) Johnson
December 30, 1952 - February 13, 2017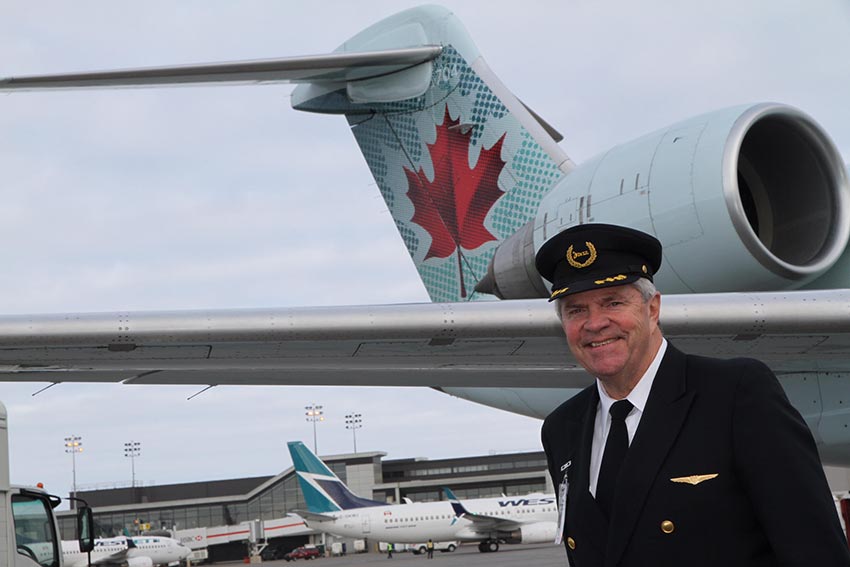 Mount Royal University's aviation program's chair, Leon Cygman, met Reyn Johnson during the summer of 2016 at Johnson's interview for a flight instructor position.

He remembers Johnson's firm handshake, big smile and the twinkle in his eye, and he knew that Johnson's experience of 35 years as a commercial pilot and over 20,000 flight hours would be invaluable to the program and its students. As Johnson began instructing, "It became clear to me that his signature twinkle sucked (students) in and his expertise kept their attention and got their respect," says Cygman.

It was not long after joining the program that 64-year-old Johnson became known as the "grandpa." However, Cygman says he was not the type of grandpa who sat in a corner rocking chair, but rather the type who you couldn't wait to hear stories from.

"He was the type you hoped to capture even a small piece of wisdom from to make you a better person. All along wondering, 'How did he get to be so smart?' and hoping you could be just a little like him," says Cygman.

MRU President David Docherty says, "He left that spark, that twinkle and that drive in our students and inspired them, not just to be better pilots, but to be better people. He had time for every single one of our students and that made an impression."

One of those students was Josh Burrill, who flew with Johnson on many occasions. "Reyn was easily the kindest person I have ever met. He exemplified every possible aspect of a professional pilot and a gentleman.

"I'll never forget the day I met him. He walked in, shook my hand and instead of telling me about himself, he proceeded to ask me all about myself. I knew from that moment that he genuinely cared about me. He was many things to me ― a colleague, a teacher and a mentor. I take peace in knowing that Reyn has traded in his man-made wings for angel wings."

While Johnson was extremely passionate about his aviation career, it was his family that meant the world to him. He was a proud and devoted husband to his wife Brenda, who he met at the University of Lethbridge and married in 1977. They farmed with Brenda's parents in the Taber area for two years before settling in Lethbridge, where Johnson worked on obtaining his commercial pilot license, beginning with crop spraying.

The couple moved to Calgary in 1985, where Johnson continued his aviation career, working with Jordan Flight Training, Business Flights and then Time Air, which eventually became Jazz Airlines. They welcomed their son Lucas to the family in 1988 and their daughter Maryse in 1991. Their life together was a foundation of love and strength for their family, church, friends and community. Johnson was also a proud grandfather to Isaac, Abigail and baby Jacob. The last photo taken of Johnson was of him lovingly holding his newest grandchild, born just three days before his passing.
---
As a reminder, counselling services are available for employees through Homewood Health at 1.800.663.1142. Then please hit number 1, ask for a counsellor and reference Mount Royal.

Additionally, MRU's Multi-Faith Chaplaincy (F122) has a team of chaplains representing a variety of faith traditions, and is available on campus for drop-in at any time between 8:30 a.m. and 4:30 p.m.