Mount Royal University: An International Perspective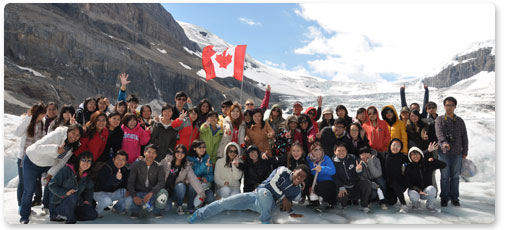 Students from Shanghai share their experiences
This August, Mount Royal University (MRU) was proud to host 36 students from the Shanghai University of Finance and Economics (SUFE). The students took part in the month-long summer immersion program, along with other like-minded international students from around the globe. Since the inception of the partnership with SUFE in 1992, over 300 students have come to study at MRU from the Shanghai University of Finance and Economics (SUFE).
Calgarians recognize MRU for its face-to-face brand, small classroom sizes, hands-on work experience and international opportunities. International Education was eager to understand and learn about the opinions about MRU from an international perspective. Two SUFE students were interviewed about their thoughts on MRU, the Summer Immersion English program and their experiences in Calgary.
Lin Yilei, a Public Finance student, chose to come to MRU to learn more about Canadian culture and to enhance her English speaking skills. Upon arrival, Yilei first noticed and appreciated the spacious and grassy campus at MRU. She also raved about the MRU Recreation Center and enjoyed living in residence where she had her own sizeable room. "The campus is a peaceful and relaxing place to study," says Yilei.
More importantly, Yilei values MRU's open learning environment fostered by her instructors. "Classes were not always assignments and worksheets. We had engaging discussions between the students and the instructors. I have never had this type of experience before where I became close with my instructors."
Taxation student, Zhou Yifei agrees. "Students can grow in the classroom environment, not just by studying, but by interacting. The immersion program allowed me to learn outside of the classroom during activities and group trips."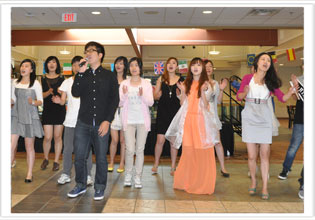 As future business leaders, both students found great value in the class field trip to Scotia Bank in downtown Calgary where they were immersed in a professional environment. Professionals at Scotia Bank gave presentations about their experiences in the work place. Wang Xue Mei, coordinator of the SUFE group, explains that the field trip, as well as the summer immersion program in general, has allowed the students to think about their career paths. "The trip has provided the students with an opportunity to broaden their horizons and become more open-minded about their career choices."
Prior to her arrival, Xue Mei was informed by fellow SUFE colleagues that MRU is not only a safe and beautiful place to visit, but also a fun and interactive place to learn. "During our stay, MRU has been very hospitable; we felt welcomed and well taken care of." Throughout the one-month journey, the students learned to become more independent, open-minded and ambitious. Xue Mei is certain that SUFE students will continue to visit MRU because of the positive feedback.

- Jessica Stermann, August 22, 2012