Student research award recipients announced during campus-wide showcase
Mount Royal's largest Research and Scholarship Days wrapped up with several students receiving recognition for their work April 7.
The awards presentation brought the Mount Royal community together in celebration of undergraduate research and revisited highlights from the six-day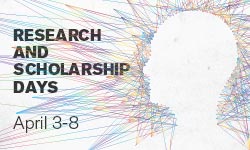 series of events, with faculty and student presentations, workshops and speakers taking over campus.
Student participated in both poster and oral presentations during the week. Each student was adjudicated by three judges to assess their contributions to their field.
The award recipients were:
Faculty of Arts
Winner: Camille Cunningham, Criminal Justice
Cunningham's poster titled "Availability and Accessibility of Community Services for Family Violence Victims: A comparison resource inventory for Trochu and Calgary, Alberta" was completed for CRJS 5010/5020 (Honours) under the supervision of Scharie Tavcer, PhD.
Runner up: Tessa Kostashuk (Anthropology) for the poster "Population expansions to South Asia: a study of cranial diversity on a west to east distribution".
Faculty of Business and Communication Studies
Winner: Anja Meier, Human Resources
Meier's presentation entitled "Does A Recession Affect Millennials' Career Expectations?" was completed for MGMT 5120 under the supervision of Leah Hamilton, PhD.
Runners up (three way tie): Janell Scott (Marketing) for the presentation "Voluntary Simplifiers and their Identity Construction"; Djordje Calic (Finance) for the presentation "Prospects, Framing, and Gender Oh My!"; and, Katerina Dulay (Broadcast Media Studies) for the poster "Diversity and Web 2.0: YouTube
In addition to the Dean's Recognition Award for Research, Meier was awarded the 2017 Bissett Honours Thesis Award. Fellow student Shamaila Butt was also presented the honours award the same evening.
Faculty of Health, Community, and Education
Winner: Nicole Monks, Bachelor of Midwifery
Nicole's presentation entitled "Maternal postpartum blood loss after vaginal delivery and the use of AMTSL among midwifery clients in Alberta, Canada from 2009-2015: a retrospective study" was completed for MDWF 4151 (midwifery capstone) under the supervision of Gisela Becker and Susan Jacoby.
Runners up: Natalie Hood, Kyla Park & Morgan Thorson (Child Studies) for the poster "Adverse Childhood Experiences and Young Offenders"
Faculty of Science and Technology (three categories)

Independent Projects
Winner: Candace Toner, for the poster "An Evaluation of Potential Carving Stone Deposits to Support the Sustainability of Inuit Artisans". Candace was supervised by Jeffrey Pollock, PhD.
Course 3000 - 4000
Winner: Corolyn Lyn, for the poster titled "Committed to Conserving Calgary's Water Supply". Lyn worked with supervisor Melanie Rathburn, PhD, to complete her project.
Sustainability (presented by the Institute for Environmental Sustainability)
Winner: Chelsea Beach, for the poster "Geothermal Energy Production and Potential; Compare and Contrast the Tectonic Setting of New Zealand, Iceland and Canada". Beach was supervised by Katherine Boggs, PhD.