Students get chance to weigh in on upcoming grade school curricula modifications
Honourable David Eggen, Minister of Education, visits to chat about "Future Ready"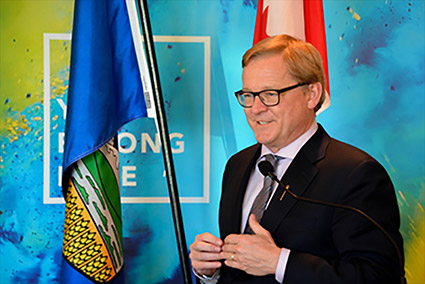 On Feb. 16 Alberta 's Minister of Education, the Honourable David Eggen, dropped by Mount Royal to engage with Bachelor of Education (B.Ed) students and faculty. Minister Eggen discussed the future of education in Alberta, in particular the Government of Alberta's Future Ready initiative, which focuses on ensuring Albertans adopt skills to help them thrive in an ever-changing economy.
The introduction of new curricula, investment in workforce and apprenticeship training and student teachers taking part in the discussion are all part of the government's strategy.
"This is a great chance for me to talk to and have conversations with education students," said Eggen. "There are a lot of changes we are trying to invoke in school systems around our province, and the best agents of change are well-informed and well-motivated young teachers."
The presentation elicited stimulating conversation with students and faculty of the B.Ed program around details of the Future Ready initiative, such as Indigenous sensitivity training and working better with students with special needs.
In attendance was Aaron Horne, president of the Education Undergraduate Society and current student of the B.Ed program.
"It's absolutely important for us to be involved in this discussion, as we are the future teachers for Alberta," saysHorne. "We have spent our time at Mount Royal and in our placements forming opinions and gaining experience and have a lot to say on these topics."
Jodi Nickel, PhD, is chair of and associate professor in the Department of Education. She agrees with Horne about the value of having the opportunity to engage with the minister on such high-stakes changes to Alberta's education system.
"Just as citizens shape a society by their active engagement in societal issues, so too do teachers shape the education system by actively engaging in the issues that influence their work," says Nickel.
Eggen's visit allowed MRU's future educators to help inform decisions that will directly impact their careers. The minister explained how government initiatives will influence how curricula is delivered in Alberta, including a new teaching quality standard for certification, programs to improve the graduation rate and grants to increase the integration of Indigenous perspectives.
Feb. 28, 2017 ― Lauren Price