Who's Frank? Find him in February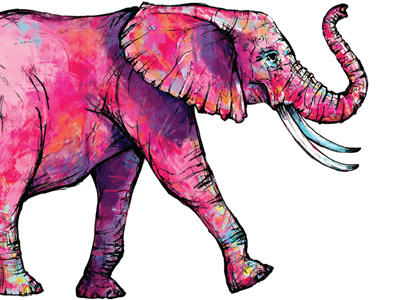 Pop-Up Poetry, Frankly Speaking and Pink Shirt Day with Candy Palmater
Frank is the physical manifestation of the "elephant in the room" that bullying often is. Bright pink, life-sized and hard to miss, Frank is a bit of an enigma because even though he appears in classrooms, sports fields and arenas, workplaces and just about everywhere else, nobody talks about him.
Throughout February, the University will be dedicating various days to raise awareness about the issue of bullying in our society. Who's Frank? was conceived and developed in 2014 by Faculty of Arts professors Natalie Badenduck and Paula Dozois of the Department of Interior Design, and Jane Drover and Natalie Meisner of the Department of English, Languages, and Cultures, a core group who are working to make Frank become a national icon in the fight against bullying.
"Represented by Frank or Frankie, the 'elephant in the room,' the initiative works with schools in Calgary and surrounding areas to encourage dialogue and education about bullying," explains Badenduck. And in 2016, "the focus shifted from outreach to the Mount Royal community with the Frankly Speaking series."
"Each year Who's Frank? investigates a different aspect of the way that bullying and oppressive behaviors impact our everyday lives in visible and invisible ways," says Badenduck. "For 2017, this series will discuss Media and Romance on Valentine's Day."
Frank will be front and centre at many of MRU's events on and off campus during the month.
Who's Frank Pop-Up Poetry on Feb. 13 and 14
Forego the Valentine's Day card this year and score your significant other a unique piece of poetry penned by one of Calgary's remarkable arsenal of outstanding poets. MRU's first Pop-Up Poetry event of 2017 will feature the University's own Micheline Maylor, Calgary's 2016-2018 Poet Laureate, as well as Natalie Meisner, who recently debuted her play Speed Dating for Sperm Donors in Halifax to receive a standing ovation. Also pounding out poems on old-fashioned typewriters will be Faculty of Arts English professors Kit Dobson and Richard Harrison.
The two-day event taking place on Main Street on Feb. 13 from noon to 2 p.m. and Feb. 14 from 10 a.m. to noon is a celebration of the written word and will offer attendees the opportunity to meet and connect with poets, and watch the creative process in action.
What Pop-Up offers is a one-of-a-kind/one-copy-only poem. It's the art form of writing to give away, the art of the short and poetic relationship between reader and writer through a word commonly held between them for a few minutes," says Harrison. "It's really quite beautiful."
"In a way, I'm freed from having to live with the poems I've written exactly as I've written them. For me now those poems are memories of greater or lesser clarity ― some are just feelings, some a few words or lines. So in a way Pop-Up lets me give the poem not just away to the reader but away from myself as well."
An anti-bullying booth will also be set up at the event and Frank, the "elephant in the room," will be in attendance and an informative Pink Shirt Day handout will be given away. Take this opportunity to have a poem written for your valentine! Cupcakes and coffee will be served.
Frankly Speaking ... about Media and Romance on Feb. 14
Add to your Valentine's Day plans by checking out a panel discussion around the many myths of romance - from the trivial to the dangerous - and learn what can prevent people from achieving healthy relationships.
The panel will consist of an eclectic mix of MRU faculty and staff, which includes: Kendra Hart, Bissett School of Business; Allison Mackenzie, Communication Studies; Micheline Maylor, Faculty of Arts; Valerie Caden-Baptiste, Student Life and Jack Dobbs, Wellness Services.
This event runs from 2 p.m. to 4 p.m. in the Lincoln Park Room (J 301), leaving you with plenty of time to make it to your dinner reservation. RSVP not required.
Pink Shirt Day with Candy Palmater on Feb. 22
Award-winning Canadian comedian and broadcaster, Candy Palmater, will be speaking to students and staff at Nelson Mandela High School on Feb. 22.
Palmater, who has spent time hosting "q" and The Candy Palmater Show on CBC Radio One, is an advocate for kindness and self-acceptance. Candy spends much of her time travelling Canada speaking about the power of love and reinforcing that we are more alike than different.
Attendees will be decked out in pink to symbolize that we will not tolerate bullying anywhere.
Feb. 1, 2017 — Rob Petrollini