Leadership in Policy Studies: Karlene Betteridge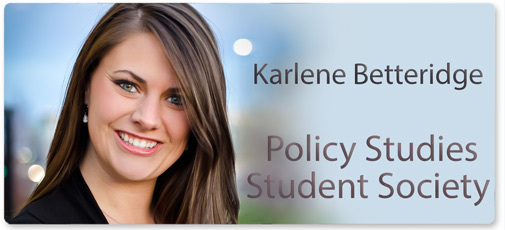 Fourth year Policy Studies student Karlene Betteridge is dedicated to enriching the campus community through leadership and initiative in extracurricular activities. This fall, Betteridge ratified the Policy Studies Students' Society to help enhance the student experience and encourage networking within the program.
"We were together all the time anyway, so I thought we might as well be an official student society" she explains. Since starting the official SAMRU club, Betteridge has arranged a variety of events which engage students and faculty by initiating important non-partisan conversations about policy and politics, including a visit this past fall from Justin Trudeau.
In addition to volunteering on campus, in the community Betteridge has been actively involved in local politics. In the last provincial election, Betteridge worked with local MLAs on marketing and photographing their campaigns. However, it was her internship with Talisman Energy that has had the most impact on her education and goals. She explains that the company's dedication to corporate social responsibility helped her to decide what to pursue both in her classes and professionally after graduation.
- Famira Racy, March, 2013