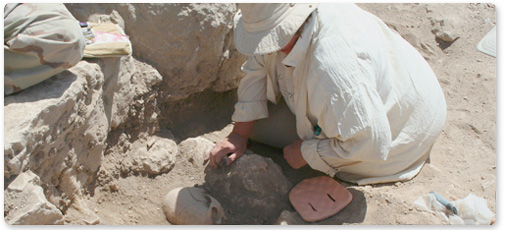 MRU Archeology professor Julie Cormack began working in the archaeological field at age 13 and showed a keen interest in both biological and cultural remains. She has always been passionate about the study of human origins. After receiving her PhD from the University of Liverpool, Dr. Cormack worked with the well-known and respected African archaeologist J. Desmond Clark on editing volume 3 of the Kalambo Falls monograph (Clark, Cormack and Chin 2001). She has conducted archaeological fieldwork in east and west Africa, Belize, England, and Canada; and palaeontological fieldwork in England and Pakistan. In 2002, she was invited as core staff to the Madaba Plains Project (MPP) in Jordan, where her responsibilities are as lithic (stone tool) and human osteology expert.
Cormack first learned of the Madaba Plains Project while attending a public presentation at the Royal Alberta Museum in Edmonton in the late 1990s. In Jordan, she saw the potential to expand the MPP field and lab programme by engaging Mount Royal students in this international opportunity. Since 2002, over 30 Calgary students and volunteers have participated in this field programme as well as working on the description and analysis of 5000-year-old stone artefacts from the Bronze and Iron Age site of the Tell al-'Umayri site in Jordan. Students can receive credits in Anthropology for their time in Jordan, and Dr. Cormack notes that anyone with sufficient funding is welcome to participate in the programme. She explains that "it's about getting out of your comfort zone and finding a connection with the past in order to understand the modern."
Cormack beams when telling about two former students returning to the site for a second and third time, both of whom have been promoted to supervisory roles.
The next field programme will occur in July and August of 2014. Link for more information.
- Kimberly Getz, February, 2013