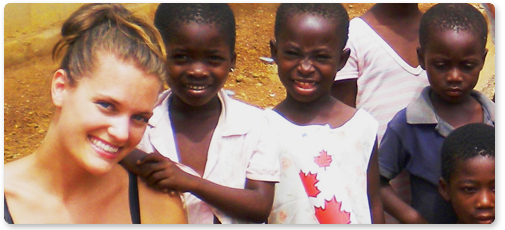 Mount Royal has established a strong tradition for fostering undergraduate research. This past December, students from the Department of English Honours Seminar held their second annual undergraduate conference entitled Margins, Identity, Performance organized by Dr. Kenna Olsen.

Among the students presenting was Monica Meier. Her paper, Postcolonial Science Fiction in Popular Culture: The Implications of Avatar, explored science fiction through the lens of post-colonial theory to explain reoccurring themes and characters that enforce the concept of "The Other". Although her focus was fantasy, she showed that it reflected and reinforced current realities, including the marginalization of groups.
Meier's passion for post-colonial studies has been evident throughout her degree. However, it was enhanced after participating in the 2011 field school to Ghana, West Africa, under the direction of English Professor Yaw Asante. By meeting with locals, Meier was able to perceive how her own interaction with "the Other" was affected by popular culture. It was a transformational experience, both academically and personally, reflecting the deep education MRU provides. She plans to attend graduate school next fall to further explore post-colonial science fiction, namely how it reflects and impacts on our society.
- Kimberly Getz, January, 2013