Faculty of Arts takes it to the streets
This September, the campus has been filled with welcome back events for the Mount Royal community. But no event brought together faculty and students quite like the second annual Faculty of Arts Welcome Back Event.
On Tuesday, Sept. 19, organizer and dean of the Faculty of Arts Jeff Keshen used his creativity and connections to design a fun and multi-faceted event that attracted a crowd of students, staff and faculty to the East Gate Courtyard.
To kick off the program, Arts faculty squared off against students in the 2013 Street Hockey Challenge.
Taking it to the streets
Street hockey being played on the pavement in front of the EA building is hardly a regular occurrence; the pitched battle drew a crowd of spectators and some raucous cheers.
Special guests included the Mount Royal Cougars mascot, Calvin, and several players from the Mount Royal Cougars hockey team who helped the students to their 3 - 1 victory.
The win means that for the first time the student team will earn a spot on the Challenge Cup, a new Stanley Cup replica purchased by the dean for this annual event. Last year, faculty and students kicked off the Welcome Back Event with a soccer game that was ultimately declared a draw.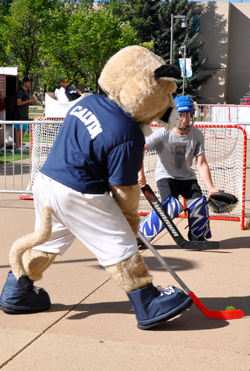 Calving shows off his wicked dangle during the skills competition.
When asked about the faculty team loss, Keshen admitted that his team may be somewhat compromised. "I suspect that we are at a disadvantage in the long term on the faculty side because we continue to grow old and the students rejuvenate their team each year."
Showing their skills
Spectators and hockey players were also encouraged to participate in other activities, which included a hockey skills competition, a photo booth and complimentary lunch.
The skills competition saw the MRU community face off against a goalie, the dean of the Faculty of Arts. Those who successfully scored a goal received prizes made possible by the Faculty of Arts and the Students' Association of Mount Royal University (SAMRU).
"It was really great to participate in an event that brought students from across campus together," said Sam Ulmer-Krol, a third-year student studying Anthropology. "It's a great way for students to have fun at the start of the semester and possibly get some revenge on their profs and dean."
Building a community around a great cause
The dean's creation of this event in 2012 was motivated by a desire to build community on campus and to raise funds for a student award.
Creating a fun atmosphere and interacting on a friendly basis is not only important for student relations, but for faculty and staff as well.
"I think by doing this it creates a really positive work environment," says Keshen. "When you are feeling good about coming to work each day you bring that into the classroom, into your research and into your service and it becomes a win-win for the University as a whole."
In the dean's opinion, both goals - creating community and raising funds for Arts students - were met with tremendous success. Faculty of Arts staff and students raised donations towards the Arts Cup Scholarship, which is a student directed and administered award for eligible Faculty of Arts students.

Seeing a new year start with such a great event helped solidify Keshen's vision of a cohesive Arts community on campus.
"I like to get students involved because I think it helps to break down barriers," said Keshen. "It gets them comfortable with their professors, encourages them to interact with other students and ultimately adds to their success at Mount Royal."
Jessica Williamson - Sept. 19, 2013