Behind the Curtains: An Interactive Relationship Violence Symposium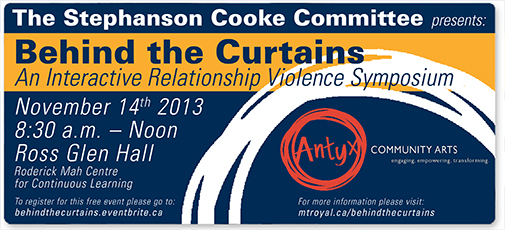 Stephanson Cooke committee presents:
A student led interprofessional learning initiative on relationship violence awareness, featuring Antyx Theatre.
Our Goal
To address the issue of relationship violence for the MRU population broadly, and for the more specific interprofessional lives of MRU students. We want to create awareness and opportunities for learning on campus and in our interprofessional workplaces
Where
Ross Glenn Hall, Continuing Education Building
Mount Royal University
When
November 14th, 2013
| | |
| --- | --- |
| 8:30 am | Enjoy refreshments and mix and mingle with fellow students |
| 9:00 am | Introduction and Welcome from the Dean of the Faculty of Health and Community Studies, Dr. Chad London. |
| 9:10 am | Part 1- Antyx Theater presents "Turn Off The Violence" |
| 10:30 am | Intermission |
| 10:45 am | Part 2 - Relationship Violence world café style round table discussions |
| 11:45 am | Discussion, conclusion and farewell |
Why
The Stephanson Cooke "Behind Closed Curtains" symposium is funded and was initiated by the vision of Agnes Cooke, a valued community member of Mount Royal University and the Faculty of Health and Community Studies. With her generous donation, and the guidance of an interdisciplinary faculty advisory committee and student leaders, this event will give students tools to use in their personal and professional lives in the context of relationship violence.
Who is Invited
Any student within the Faculty of Health and Community Studies. If would like to participate in this free event, please Register Today!
Next Steps
Join us on Main Street at MRU following the symposium at 12:00pm to experience the projects created by students from the Stepping Up program. Take this opportunity to connect further with the topics and with other students in order to extend the dialogue and discussion more personally and professionally.

Symposium Sponsor: Agnes Cooke
Agnes Cooke is a long-time resident of Calgary, having moved here from Saskatchewan with her husband, Donald, in 1950. In 1947 Agnes graduated from the Saskatoon City Hospital as a Registered Nurse. Agnes supports students in Nursing and Midwifery programs at MRU through the Don and Agnes Cooke Bursaries. She has committed support for this student learning event focused on relationship violence with a deep concern for the topic and belief in the value of such learning for students who are enrolled in programs in the Faculty of Health and Community Studies.
About the Presenter


Founded January 1, 2010 after the merge of All Nations Theatre and Urban Youth Worx (ANT/UYW), Antyx began operating as a single community arts organization. Antyx utilizes the arts and community development processes to create opportunities to engage youth and communities to explore critical issues and make positive change. Projects are planned with community partners and direct input from youth. Past projects have included: community murals, performances of plays reflecting community issues, video and music projects.

Antyx Method:
Engage.
We encourage people to shift from their usual role as consumers of arts and culture to become artists themselves; making positive change in their own communities.

Empower.
We provide an accessible means for communities in and around Calgary to engage in development processes that empower members to address issues of common concern.

Transform.
Our work is collaborative. Antyx works directly in and with communities, groups, and organizations that are interested in using the arts to engage youth and build healthier, more inclusive communities.
Related Links
Antyx Community Arts
Event Bright Symposium Sign-up
Alberta Council of Women's Shelters
Calgary Communities Against Sexual Abuse
World Café Discussion
The Calgary Police Service Victim Assistance Support Team
The City of Calgary Family Violence Resources
Sheldon Chumir Centre - Relationship Abuse Help
RCMP Family and Relationship Violence
Public Health Agency of Canada Family Violence Initiative
Department of Justice
ALERT Alberta Law Enforcement Response Teams
Contact Us