Big Bob's BBQ turns 36 on June 7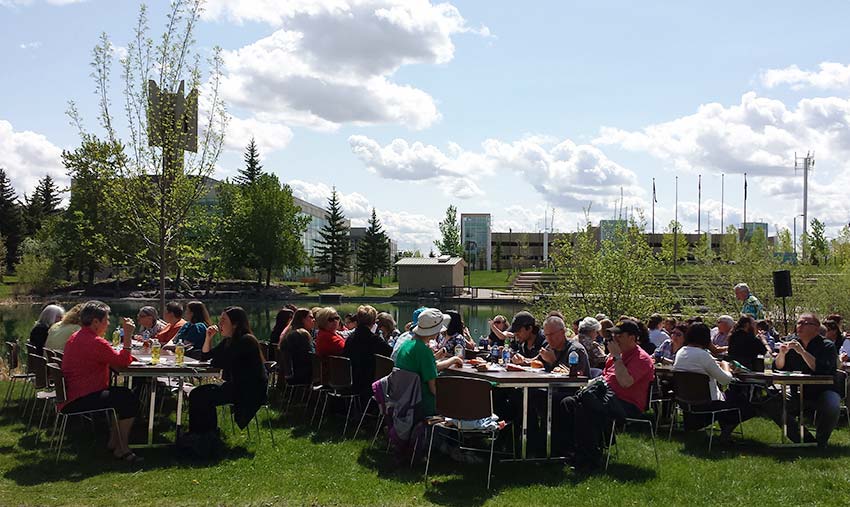 Many of Mount Royal's employees have left lasting impressions, but there's only one with a 35-year annual shindig behind his name.
Bob Charlton, AKA "Big Bob," retired from Mount Royal in 2001 after 19 years with Security Services. Back in 1982, he and cohort Stu Gauthier ― former manager of Custodial Services ― came up with the idea of throwing an annual barbecue (which was first called Picnic in the Park) in support of Mount Royal's Transitional Vocational Program (TVP).
"They wanted to help raise money because back then (TVP) didn't have government sponsorship," says Bob's daughter Judy, a familiar face at the BookStore who celebrated 20 years of employment on campus this year.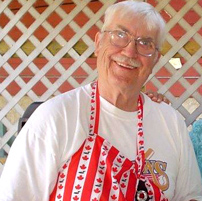 After Bob's passing in 2014, Picnic in the Park was renamed to Big Bob's BBQ, and the tradition proudly continues. It is a celebration of a big man with a big heart who demonstrated an incredible commitment to the University and its people.
"My dad was a good guy. He would give you his shirt off of his back," says Judy of her father, who was a highly decorated Warrant Officer in the Canadian Military, a role that included service in Vietnam as a peacekeeper. Judy recalled a time when her aunt was coming to visit, so her mom went out to retrieve the extra rollaway bed from the garage, only to find that her father had given it away to a student in need.
At Christmas each year her dad also anonymously dropped off a big box of food and a turkey for a Mount Royal employee who was struggling to support her family. The employee did not discover until many years later who had been so generous.
"He was always giving," says Judy. "He was very compassionate about people."
Bob and Gauthier also started the Season of Caring (which supports the Students' Association's University Emergency Food Bank as well as the Calgary Inter-Faith Food Bank), and initiated the campus recycling program in 1983, when recycling was definitely not the norm. Both programs continue today.
Fittingly, both men have Mount Royal landmarks named after them. Gauthier Court is where Big Bob's BBQ takes place, and the nearby Charlton Pond is a pretty and peaceful campus retreat.
Craig Baskett, TVP program administrator, touts Judy's dedication as the reason for the continued success of Big Bob's.
"Not only does Judy work extremely hard with the rest of the volunteer team to organize the BBQ but she is also the voice of Bob ― reminding us of the purpose and spirit of the barbecue," he says.
James Parsons, coordinator of Mount Royal's Alumni Chapters and Branches, says, "This event is special because it brings attention to the TVP program and showcases the successes of their students. The TVP is a tremendous asset to Mount Royal, and the BBQ is a great place to tell its story."
Support the TVP!
Big Bob's BBQ


Thurs. June 7 from 11:30 a.m. to 1 p.m. - Gauthier Courtyard

Tickets: $15 and are available at the Bookstore, TVP (M200), University Advancement (A150), and can also be purchased at the event. There will be door prizes and live entertainment.
Bob and Christel Charlton Memorial Scholarship
Bob and Christel Charlton Memorial Scholarship In addition to his volunteer work, Charlton and wife Christel added to their philanthropic efforts by having a scholarship set up in their name in 2001, the year of Charlton's retirement. The Bob and Christel Charlton Memorial Scholarship is given annually to a third-year Bachelor of Child Studies student who has exhibited academic achievement and has volunteered in an organization related to their discipline.
To make a donation in honour of Big Bob, please call 403.440.7700 or email giving@mtroyal.ca.