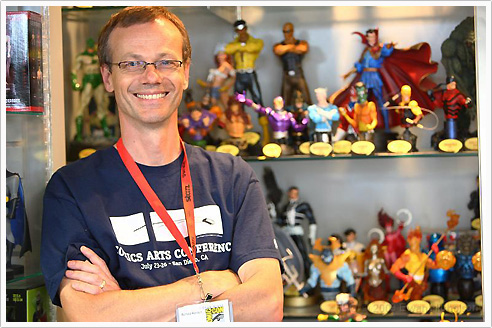 Mount Royal English professor Richard Harrison isn't faster than a speeding bullet or able to leap tall buildings in a single bound, but he can balance two opposing worlds - high culture and low culture. The poet and comic connoisseur recently did just that as a guest speaker at Comic-Con International.
Harrison was an academic panelist at Comic-Con last month and shared insights from his essay The Dark Knight Origin of the Man of Steel, which looks at how Bill Finger, the author of Batman's origin story, influenced the origin story of Superman.
Highlights

Among his non-academic highlights at Comic-Con International in San Diego:
Patting Adam West, who played Batman in the 1960's TV series, on the shoulder
Being brought to tears while watching clips from Hayao Miyazaki's animated film Ponyo
Listening to producer John Lasseter (Up, Ratatouille, Finding Nemo, Monsters, Inc., Toy Story)
Watching a preview of Iron Man 2
Getting a Tick drawing
"Comic-Con was astounding," says Harrison, pictured above in the store Another Dimension Comics. "If it had just been the other scholars talking about the comics and sharing ideas it would have been amazing enough, but the conference was more."
The author of six books - including the Governor General's Award-nominated Big Breath of a Wish - admits his "old world" love of poetry and academia and "new world" love for comics have not always coexisted easily.
"My high culture and low culture interests were at war for a long time. But writing about comics was a way of making peace," says Harrison, whose course list includes a graphic novel course.
Inspired by Stan Lee
The balance of his two interests started when he took a break from writing poetry to produce his own comic - Hero X. Following the example set by Marvel Comics' Stan Lee, who included a page in his comics (Stan's Soapbox) that chatted about comics, Harrison included short essays about comics in Hero X.
"It taught me to write intelligently without worrying," explains Harrison. "Nothing was riding on these essays. I didn't write them to be evaluated - I wrote them for the joy of making something to read."
That freedom and the style of writing it created spilled over into his academic and literary world.
"I learned that the trick to writing honestly is to write for the sake of what it is you are saying.
"It really informed my sense of what it is to write prose. You should walk away from reading an essay as if you had a really good conversation."
Comic acceptance
The fact that comics have become mainstream and are no longer vilified as delinquent-inspiring kid stuff, also helps Harrison work in both fields.
"Once you start talking about comics in a respectful way … pretty well everyone confesses they have been affected by these characters and stories in some way."
He has experienced more pushback regarding his poetry about hockey than for his writing about comic books.
"I have had to defend what I see in hockey to people who don't see what I see much more than I have to defend what I see in comics to people who don't see it."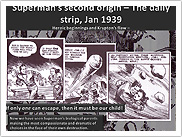 A slide from the PowerPoint Harrison presented at Comic-Con. The slide was created by his daughter Emma Harrison Rouleau, 14, who attended the popular convention with Harrison.
Part of what Harrison sees in comic books is the power they have to tell a story - combination of words and panels of art.
He is also fascinated by comics' transformation from being printed on cheap paper that was not meant to last, to something that is now an object of collection and study. The billion-dollar industry has also evolved to include blockbuster movie franchises and video games.
"What happens when people don't throw away what they are supposed to throw away? It becomes literature."
Bam, Pow, Teach
Harrison found many like-minded people at Comic-Con. Participating in the popular conference also reignited his enthusiasm for teaching.
"Being part of the latest research in comics also means I have a ton of new resources now," says Harrison.
"Teaching is storytelling for a purpose. The wisest people I know have a story for every occasion.
"People who know how to take what I've been thinking, but thinking it alone, and hook it up to something larger -that little bridge between aloneness and community forming, that is teaching," says Harrison. "Now I've got a lot more equipment to build bridges."
Of course, there is also the cool factor inherent in attending Comic-Con.
"Don't you think I won't be wearing this T-shirt (a Comic-Con shirt with "It's Scholarin' time" on the back) in class and showing the photo of Adam West or me with the guys dressed like the Justice League," laughs Harrison.
And, like most comic book stars, the highlight of their career is joining a strong and supportive team - like the Avengers.
"One of the beauties of Mount Royal is the support it gives to its faculty. I came in as a creative and literary writer and I've been allowed by the department and Mount Royal to move into areas I wouldn't have dreamed of - hockey scholarship and comic scholarship."
- Anika Van Wyk
Aug. 13, 2009
Links
Bachelor of Arts
Department of English