As awareness grows, Office of Campus Equity and Meaningful Inclusion moves to larger space
Official opening Sept. 12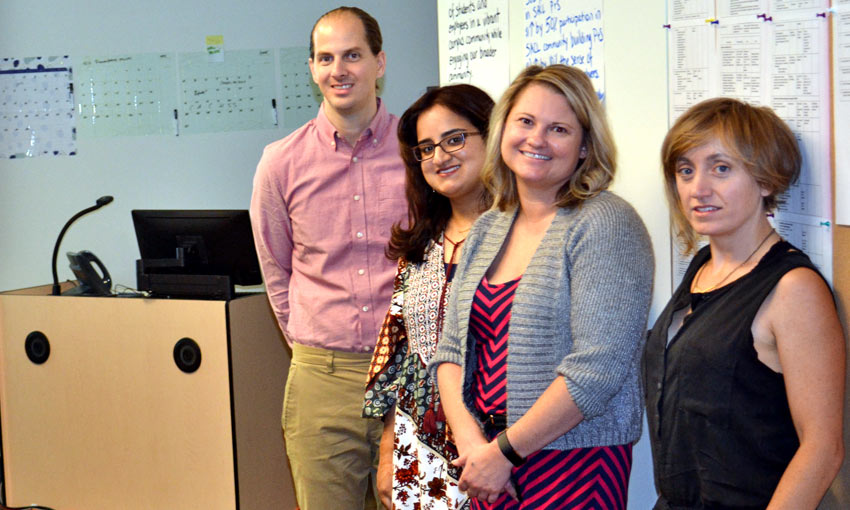 The #MeToo Movement, Black Lives Matter, LGBTQ rights and a broadened understanding of gender are top of mind these days, as well as often at the top of the newscast or front page.
Helping Mount Royal students, faculty and staff with the challenges and barriers behind these movements is the everyday reality for Mount Royal University's Office of Campus Equity and Meaningful Inclusion.
"None of it is new," says the office's director Stephanie Stone. "Other people's attention and the focus on this in private industry, politics and leadership, generally has become more apparent, so people are reaching out. Maybe they've struggled but now they're looking for support."
Formerly the Office of Diversity & Human Rights, which has evolved from a single human rights advisor position in 2009, the Office of Campus Equity and Meaningful Inclusion works toward a safe, respectful and meaningfully inclusive campus. That means identifying and addressing barriers to full participation in the learning and working environment.
Programs and services include Peer Social Justice Education; Inclusive Education and Programming; Sexual Violence Response and Awareness; the Interfaith Centre; the Positive Space Initiative and Human Rights Advising.
The office hears concerns in confidence, explores informal methods of resolution, explains the process for a formal complaint, delivers educational programming, workshops, training and presentations, and promotes a respectful campus community.
This year, peer-to-peer programming will expand into the area of sexual violence, where students will speak with other students about what is available on campus regarding dating and sexual violence.
"The peer to peer volunteer program will include outreach, awareness and student engagement activities," says Cari Ionson, Sexual Violence Response and Awareness coordinator. "There will also be short presentations about sexual violence and the resources that are available to the campus community for those who have been impacted by sexual violence and want support."
As part of that growing need and demand for its services, Campus Equity and Meaningful Inclusion has moved into a new space (C201, formerly the Iniskim Centre on the second floor of the Lincoln Park Campus) that will allow it to better serve students, faculty and staff. The new office officially opens Sept. 12.
"One of the exciting things that we're able to do with this space, in addition to providing space our peer educators, is offer our programming onsite. We now have a room where we can hold workshops and host movie nights" Stone says.
"It's also a gathering space. We don't have things on campus like a women's centre or an employee pride centre, but we have plans to turn that space into those temporarily a couple of times a week. There will be times during the week that it will be dedicated as women's centre space. There will be times it's dedicated as community of colour space and times it will be dedicated as an employee pride space."
In order to better accommodate the schedules of students, staff and faculty, the office's hours are shifting as well, to from 10 a.m. to 6 p.m.
Workshops for this academic year are still in the planning stage but in the past have included topics like responding to sexual violence, creating a culture of consent, social justice 101, intersectionality and combating microaggressions.
Mount Royal has been at the forefront of offering services of this type.
"Different universities do things differently. Where we had a bit of a lead is in that along with the human rights advising we started doing some of the other programming alongside it," Stone says. "In a lot of institutions that programming exists through student government or doesn't exist at all, but I am seeing a lot of universities across the country starting to expand in similar ways. Sexual violence response and awareness has really been a focus for universities across Canada the last few years and has largely been taken in by similar offices. More and more awareness and peer to peer work is being done."
Organized through the office but involving a working group from across campus and sponsorship by the president's office, MRU's participation in the Calgary Pride Parade is scheduled for Sunday, Sept. 2.
"It's just been getting better and better," says Stone.
Stay connected with the Office of Campus Equity and Meaningful Inclusion.
Aug. 24, 2018 ― Peter Glenn
Media request contact information.
Have a story idea? Please fill out this form.