As an engineer in the Canadian Army, Kassem Hammidi removed mines from the dusty roads of Afghanistan and helped protect Kelowna from devastating forest fires in 2003.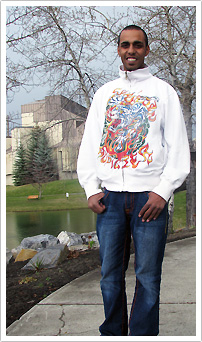 Upon leaving the Army in 2005 a whole new world opened up to him when he began volunteering with L'Arche, a network for people with disabilities. That's where he realized he wasn't done helping people.
"This practicum taught me a lot about myself," says Hammidi. "It is the role of a social worker to advocate and be a voice for those who don't have one. That is one
of my goals."
He is graduating among the top students in the Social Work program, in spite of dedicating much of his time to the clients of L'Arche and running a trucking and excavating business.
Looking forward, he'll combine his knowledge and experience to help those who struggle to help themselves.
Hammidi first studied at Mount Royal after graduating from high school in 2001 but after meeting an Army recruiter at a Mount Royal career expo, he donned fatigues and joined the Canadian Forces as a combat engineer.
His specialty - removing obstacles and helping people - hasn't changed now that he's a social worker, it's just a different context.
"I never saw myself working with people with disabilities, but having worked at L'Arche and stepping out of my comfort zone, was an amazing experience," says Hammidi. "I was blessed by something as simple as being able to make everyone smile."
Hammidi is looking forward to balancing his business with his job at Aspen Group Homes upon graduation.
"Eventually my goal is to end up in the counselling side of social work," says Hammidi, pointing out that a master's degree is the next step in a journey that has taken him around the world and back.
- Candace DeFreitas, June 5, 2009