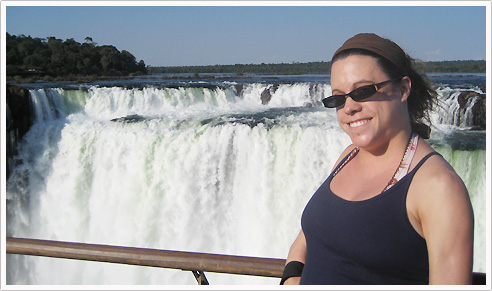 When Chelsey Dawes was four years old, doctors told her she wouldn't live to blow out the candles on her fifth birthday cake.
She had been diagnosed with a rare illness called juvenile dermatomyositis that attacks the muscles and liver.
Dawes proved the doctors wrong but has battled a series of debilitating illnesses, surgeries and side effects, like rheumatoid arthritis.
Not to mention the illness that devoured her arm muscles.
She makes up for that loss with inner strength and works tirelessly to help others who have been similarly afflicted do the same.
In 2007, Dawes won a national FLARE Magazine Volunteer Award for her contributions to the community.
In 2008, the Terry Fox Foundation chose Dawes from nearly 700 applicants nationwide as one of 27 recipients for the prestigious Terry Fox Humanitarian Award.
Continuing her education
Throughout her time at Mount Royal she sat on numerous boards and foundations, all while earning the grades necessary to study for her master's degree in social justice and human rights at the University of Arizona this September.
"Chelsey has faced many challenges with her health but has never let that stop her," says Cyndi Cave, Coordinator for Alumni Services and Programs, who worked with Dawes for three years as she volunteered with the Future Alumni Network Club (FAN Club).
"She's one of the most active students on campus and has always been a source of inspiration to those around her."
The Nonprofit Studies degree graduate is spending her convocation in the South American jungle, volunteering on humanitarian projects like rebuilding a community centre that was destroyed by an earthquake.
"For my entire life, I have never known anything else but being sick…some days just getting out of bed, making it across campus to class was a real
challenge."
But Dawes says Mount Royal helped her embrace life.
"I learned that I am a nerd and that I like to sit on boards and I like to debate about fundraising projects and I'll miss all that - the acceptance, the familiar faces, the memories.
"It all shaped a beautiful chapter in my life and I will forever look at it as shaping who I will become."
Looking forward to her 21st birthday, it's clear Dawes' light will continue to burn brighter than any candles ever could.
- Steven Noble, June 5, 2009