Agreement results in outdoor classroom and endless research opportunities
A historic Memorandum of Understanding between MRU and the Ann & Sandy Cross Conservation Area promotes joint educational, cultural and scientific collaboration.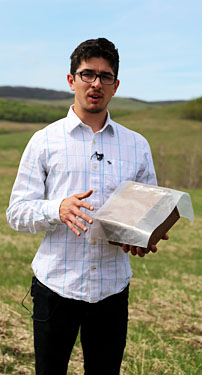 Nathan Scherger, research assistant for MRU, displays one of his bee boxes, which are placed in several spots around the ASCCA. ~Photo by Michelle Bodnar
On May 22 a historic agreement between Mount Royal University and the Ann & Sandy Cross Conservation Area (ASCCA) was signed on top of a grassy hill in the middle of MRU's newest 4,800-acre laboratory and classroom.

"Any day that I, as President of Mount Royal, have to put sunscreen on to do my job is a good day by definition," says David Docherty, PhD, president of MRU.

Working to advance the objectives of outdoor education, conservation and environmental sustainability, the ASCCA and MRU have created a Memorandum of Understanding (MOU) that will promote joint educational, cultural and scientific collaboration through numerous areas of study, research and cooperation.

"Discussions are already underway for MRU's science, education and ecotourism faculties to help us research how outdoor education programs can be more effective. Likewise students and faculty from MRU will have an opportunity to undertake meaningful research and develop outdoor-focused educational programming at a living natural laboratory close to Calgary," says Dallas Droppo, QC, chair of the ASCCA.

The possibilities are literally endless for the partnership. Every faculty, school and department at the University will be able to find some way to benefit from access to the area. Students will have the opportunity to study watersheds, wildlife (birds, bears, cougars, beavers and even moose), geology and agriculture. The land is rife with inspiration, and those working on the MOU are coming up with new ideas every day.

"Today's agreement is the start of an exciting and important relationship," says Docherty.

"Both partners share the commitment to raise awareness of the importance of our place in the environment, as ethical citizens of Alberta and the world. It's about learning how to give back."

There are already fascinating projects underway, with one aimed at involving children in the observation and analysis of the behaviours of bumblebees. The global bee population has been dramatically dropping over the past several years, and MRU researchers are trying to figure out how the busy little pollinators are faring in the Calgary area.

"400 billion dollars of industry each year is indirectly or directly reliant on bees," says Nathan Scherger, Mount Royal University research associate.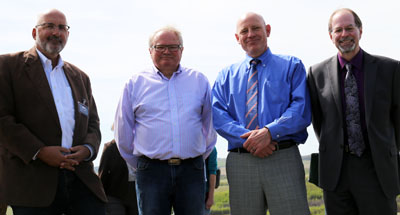 L-R: Dallas Droppo, chair of the ASCCA, Greg Shyba, CEO of the ASCCA, David Docherty, president of MRU and Jeff Goldberg, dean of MRU's Faculty of Science and Technology, celebrate the beginning of a long-term, mutually beneficial relationship partnering education, research and the environment. ~Photo by Michelle Bodnar
"Something like 80 per cent of our food crops are pollinated by bees."
As bees are absolutely pivotal to the growth of our food, their health is incredibly important. The research being carried out by Scherger and colleagues will establish a baseline of which bees are thriving where so that they can further discover what is impacting their populations, either negatively or positively. The project is being shared with elementary students as well, who come out to help Scherger build bee boxes, measure nests and count bees.
"There's a lot of synergy in us working together," says Greg Shyba, CEO of the ASCCA. "We have the land and the wildlife. MRU has the academics and the research ability to help us manage the land and the wildlife properly. This is a natural fit."

The MOU will allow for even more experiential learning at MRU, and further the University's goal of being a place where students not only gain knowledge, but also the experience needed to help make long-term differences in their communities.

"We're all about experiential learning. We're all about integrating and teaching and research. And this opportunity for us is so fascinating because, as you can see behind us, this is a classroom," says Docherty.

"It's a laboratory, it's a teaching environment, it's an opportunity to get involved in planning. We don't simply graduate students, we help create and craft citizens."
Michelle Bodnar - May 23, 2014