Communication Skills for Health Professionals Program Celebrates 3 Years of Success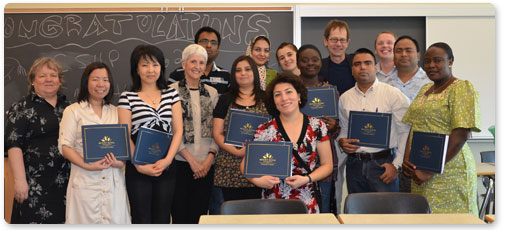 This fall, Communication Skills for Health Professionals (CSHP) welcomed its 6th cohort of participants. In the last three years over 86 internationally educated nurses, midwives and physicians from all over the world successfully completed the course. Citizenship and Immigration Canada funds places in the course for internationally educated health professionals with permanent resident status. Tuition fees apply to Canadian citizens and international applicants. The course increases the cultural competence, communication skills and strategies, and language of students to enable them to work effectively in the Canadian health care context with culturally diverse clients and colleagues.
To get a student's perspective on the course, we interviewed recent CSHP graduate Mabel Cruz-Bagadiong from the Philippines to hear about her experience.
Tell us a little bit about yourself:
M C-B: I am a Family Physician from the Philippines. I was in private practice for almost fourteen years prior to coming to Canada. I had my own medical out-patient clinic and attended to hospital referrals as a Family Medicine consultant in one of the secondary hospital in our town. At the same time, I also held a position as a company physician in one of the electrical energy cooperatives in our province. I am also a licensed Medical Laboratory Technologist, but I have concentrated more on my medical profession.
What were your reasons for immigrating to Canada and when did you arrive here?
M C-B: The main reason we emigrated to Canada was to be close to my family, because two of my sisters have lived here for almost seven years, and my other two sisters are in California with my parents. My sisters convinced me to come to Canada saying that there are a lot of better opportunities for doctors here, and we can be together as a family.
What do you see as barriers to your professional success in Canada?
M C-B: A common barrier for most immigrants especially in the health care professions is that there are not enough options for us to work in healthcare related jobs. I think coming to Canada is the biggest and most difficult decision I have ever made. For me, the main barrier is that it is not easy to get into the Canadian medical system, and alternative work in health care is not available even though I have the education and skills. In addition, we are required to have Canadian work experience, which is not possible because of the fact that we are new in Canada and are just trying to find our very first "Canadian" job.
The language barrier could be another factor for some of us. It is not much of a problem for me because I can carry out conversations in English, but I need to learn the conversational language appropriate in the Canadian setting, and the correct grammar and intonation.
How has CSHP helped you to overcome those barriers and to reach your career goals?
M C-B: The CSHP course has definitely helped me overcome the language barrier. I have gained more knowledge of communication skills which has given me the confidence to deal with all kinds of people in whatever situation, because I know I can communicate effectively.
CSHP helps us to develop the communication skills appropriate not just in the Canadian healthcare setting, but also in everyday conversations. It also provides us with an overview of the multi-cultural health care setting and the proper attitude in the work place. A CSHP certificate is also a plus factor on my resume, but regardless of the certificate, I can confidently say that the knowledge and skills I acquired on CSHP course are beneficial in clinical practice.
In addition, while attending the CSHP course, I have had the chance to meet several professionals who are also experiencing the same difficulties as me. Sharing our experiences and what we've gone through, has somehow created a connection between us.
Mabel's experience in CSHP, like many others, has been a positive one and will help obtain her goal of working as a physician in Canada.
Since the successful completion of CSHP, 60 per cent of participants are currently employed full or part time and all participants have accessed profession-related courses, workshops, study groups, bridging programs, and/or language test preparation courses since graduating. Funded seats are still available for the Winter 2013 term. Visit the CSHP website for more information and to apply now.