MRU Centre for Community Disaster Research to assist in preparation for extreme events
Need recognized after the devastating southern Alberta floods of 2013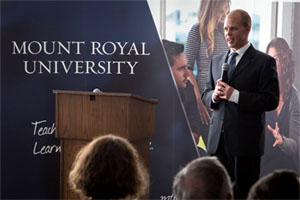 MRU sociology Professor Tim Haney speaks at the opening of Mount Royal's singular Centre for Community Disaster Research (CCDR). - Photo by Ricky Lam
On Sept. 19, 2014, Mount Royal University (MRU) celebrated the opening its Centre for Community Disaster Research (CCDR) in the wake of the devastating southern Alberta floods of 2013. Headed by Tim Haney, PhD and professor of sociology at MRU, the centre is among the first of its kind in Canada and firmly places Mount Royal at the forefront of disaster research and understanding how communities can best cope with these kinds of tragedies.
No stranger to catastrophic weather incidences, Haney has lived through three major disasters, the first being a terrible tornado in Wisconsin that rudely interrupted his wedding. During the second he was as a student in New Orleans, where he was evacuated the day before Hurricane Katrina tore across the coast. He was able to return to his home about two weeks after the event, but experienced living without any major amenities for several weeks, and then life in a flood-ravaged city for a year afterwards.
It was then that he began disaster research as his educational focus.
"It was so relevant to me in so many ways being a sociologist," he says. "When an event like that happens at your doorstep you can't just ignore it and continue what you're doing. You feel compelled to do research that can assist."
Southern Alberta's flood constituted Haney's third disaster, which occurred as he was a relatively new arrival to Calgary. The floods have since been determined to be Canada's worst natural disaster to date, and presented the obvious chance for beneficial study. Through discussions with MRU faculty, staff, and administrators, disaster was identified as a key strategic opportunity.
"We are the only disaster research centre in Canada that focuses only on people, communities and families, and that brings in the social aspect," says Haney.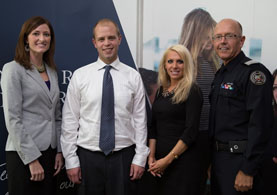 L-R: Dr. Lori Peek, Director for the Centre for Disaster and Risk Analysis at Colorado State University, Professor Tim Haney of MRU, Professor Caroline McDonald-Harker of MRU and Tom Sampson, Deputy Chief with the Calgary Emergency Management Agency, were on hand to celebrate the opening of the CCDR. Peek and Sampson both spoke on the importance of the Centre to Calgarians and the rest of Canada. ~Photo by Ricky Lam
The Faculty of Arts has donated physical space on campus, however the Centre itself has been designed to play a larger role in the greater community.
"It's more of a structure to connect people who are thinking about similar issues and to exchange ideas," He says. "I want to bring together faculty members at Mount Royal who are thinking about doing something disaster-related as well as community managers, government and researchers to figure out what it is that we don't know about how to mitigate disasters, how to make our communities more resilient and what kinds of programs we can develop to meet those needs."
Until June of 2013 most Calgarians and southern Albertans saw disasters as distant happenstances that generally occur elsewhere. The floods brought disaster to Calgary's doorstep, however, and Haney warns that incidences of such magnitude are predicted to increase over the next several years. He says that the number of annual disasters could double by the year 2050, and that in the past 30 years 3.5 million people have been killed by major events.
Funding breakdown
On opening day the CCDR celebrated $90,000 in funding from The Calgary Foundation's New Initiatives Program that will be used to fund events and seminars, to research grant programs, for outreach and initiative development as well as website development. Another $90,000 came from the Social Sciences and Humanities Research Council of Canada's (SSHRC)Aid to Small Universities initiative. Separate research grants include $103,000 under the SSHRC Insight Grant program for a project headed by Haney entitled, Evacuation Decisions, Displacement, and Network Activation During the 2013 Calgary Flood, and which delves into communities' response to evacuation orders. The CCDR has been busy surveying a random sample of households in all 26 Calgary neighbourhoods that were evacuated, requesting quantitative data about the evacuation process, and also about return and resettlement.
"We wanted to know, what are the patterns? What sort of people and households heard about the order to evacuate, versus those who didn't, and when they heard the order, what sorts of people and households evacuated and how quickly versus those that took longer to leave or stayed for the duration of the event," says Haney.
"We're trying to answer questions that matter not only to people but to public officials who are concerned about handling disasters in a better way," he says, adding that having the knowledge about why some people evacuate sooner than later will be helpful for many in the future.
Another $165,000 SSHRC Partnership Development Grant and nearly $20,000 from MRU's Institute for Environmental Sustainability is supporting the project, The Effects and Implications of Environmental Disasters on the Family: Communicating, Coping, and Caring Among Families Impacted by the 2013 High River Alberta Floods, which is being led by Professor Caroline McDonald-Harker, PhD, and studies how the flood played a part in changes to kids' education, family dynamics and division of labour in the household. Qualitative interviews of 105 High River parents affected by the flood have already been conducted, and the research sets a prime example of the type of studies that can be expected to come out of the Centre.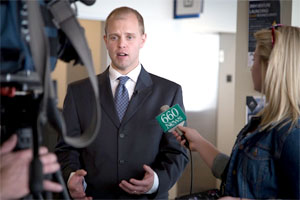 Members of the media attanded the CCDR's opening. The Centre hopes to become a major part of the Calgary community as a whole. ~Photo by Ricky Lam
McDonald-Harker, who lives just outside High River, fortunately did not see her own home damaged, however, "When the flood happened, because I am a resident I had a whole bunch of people calling me and asking what can we do, how can we help the community," she says.
As a sociologist and an expert she saw how disparate community groups have different needs and that in order to be most effective, as researchers they would have to dive in and ask about their wants and requirements.
"We decided to work with the community associations then do our research and then share with community partners so they can implement programs," she says. "We wanted this research to have an impact, to be policy, have relevance, and to help."
Currently they have a total of eight community collaborators in for the project: Bow Valley College; MacEwan University; the Town of High River; Foothills Community Immigrant Services (FCIS), Family and Community Support Services (FCSS), Christ the Redeemer Catholic School Division; Foothills School Division; Hearts and Minds and the Rowan House Emergency Shelter.
The Centre's mandate is all-encompassing, and the goal is to include research and ideas from all corners of the institution and beyond. The CCDR aims for input from faculty, community groups and government stakeholders, and MRU students are already involved on many levels, with 12 currently employed on the two research projects.
Sociology-specific opportunities for students
The Centre takes a global view of disaster, a tenant supported by the teaching and learning methods involved with sociological thinking.
"Our field encourages students to be skeptical of the claims that they hear," says Haney. "It teaches to be critical consumers of information, and opens lots of doors to students for a number of different things.
Haney took the very first sociology field school to New Orleans in 2013 (the next trip will be 2015), to learn about the recovery from Hurricane Katrina and the Deepwater Horizon oil spill disaster, and also to build a new home for an affected family. He also teaches a sociology of disaster course, where students visit High River and meet with officials.

Sept. 23, 2014 - Michelle Bodnar