Eye in the sky - nose in a book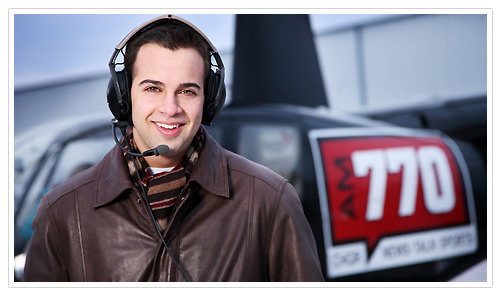 When Josh Groberman enrolled in Mount Royal's Broadcasting program in 2007, his classmates probably considered him an old pro - even though he was only 18.
Despite his young age, Groberman had already racked up more than five years experience in the broadcasting industry, interviewing local celebrities since the age of 12.
"Basically I ran around Southern Alberta with a little recorder in my hand and interviewed athletes and politicians. I just asked them questions that I thought might be newsworthy," he says.
"They answered my questions probably because they saw that I was unique and they wanted to encourage me."
While Groberman's parents supported his passion for broadcasting, he says it was his idea to search out good interview opportunities that would get him noticed.
"When I was a kid, I was loud and obnoxious. I always had to let people know what I thought. I loved asking the tough questions - their answers were irrelevant," says Groberman, adding that even as a child, he knew broadcasting would be a life-long passion.
"So I went for it. I am just a big believer in doing whatever you want when you're young so when you become an adult, you are the best at it."
Early start
In Grade 12, Groberman got his first paying job at Rogers Media-Broadcasting, working with The Fan 960, 660 News and Jack FM. This led to a number of other opportunities within the industry, including his current position as Assistant News Director for TheNewswire, a national business newswire service.
But Groberman is best known as the morning traffic helicopter reporter on Global TV in Calgary.
He landed the job while he was a Broadcasting student at Mount Royal, which forced him to make a difficult decision about his education.
"When I was first hired, it was to do traffic for the Chorus Radio Network. So, I did that during the morning rush hour and then in the afternoon I was doing the reporting for QR77 and Global TV's early news. In-between that, I was going to school as a full-time Broadcasting student.
"It was the hardest thing I ever had to do, but it was good for me - it built character and made me think about what I really wanted to do as far as my education was concerned."
After six months of trying to juggle full-time studies with full-time work, Groberman decided to leave the Broadcasting program and, instead, take English classes on a part-time basis.
Impressive instructors
"Mount Royal has a fantastic writing program - the teachers have really impressed me. I have found that they really want to work with me to build my skill-set so that I can become a better writer."
Groberman, who hopes to have his own nationally syndicated television and radio shows by the time he turns 25, feels he is on the right track to making all his career dreams come true.
While he believes his experience and education have contributed to his success, Groberman says hard work, both inside and outside the classroom, is what separates the successful from the unsuccessful.
"Students often feel like all they have to do is get that piece of paper and they will land the dream job, but that is not the case. You have to work for it," he says.
"No matter what career they choose, students can't just sit back and wait for opportunities to come their way. They have to prepare themselves with either experience or education and then go after what they want."
- Tara Merrin
March 5, 2009