Find your future at the 2018 Career and Recruitment Fair
More than 1,100 employment opportunities will be available
Come one, come all. Career Services is once again hosting its Career and Recruitment Fair on Wednesday, March 7 on Mount Royal University's Main Street. The event is slated to begin at 9:30 a.m and will run until 2:30 p.m.
Attendees can expect to connect with 74 exhibitors and more than 150 company representatives. Of the many notable organizations in attendance, a few standouts include PepsiCo, Canada Border Services Agency and Precision Drilling Corporation.
Collectively, exhibitors have more than 1,100 current opportunities available for students and graduates. Many are posted on the Mount Royal Student and Graduate Job Bank prior to the fair, others are exclusively available on each company's website.
The theme of this year's event is NETWORK. CONNECT. WORK. Students will have the chance to establish a relationship with a professional contact and acquire firsthand information about their organization's hiring needs and recruitment practices. Those in attendance will learn about current vacancies ranging from volunteer roles to seasonal, part-time and full-time jobs.
Roughly eighty per cent of the exhibitors have attended in the past and routinely hire Mount Royal students and graduates.
"They truly see the quality of the education and experience our students and graduates can offer, and choose to recruit at MRU time and time again," says Patsy Valenzuela, supervisor of Career Education and Employment Development.
As a member of Mount Royal's Career Services team she adds, "New exhibitors are always impressed with the professionalism of our student volunteers and staff at the fair. They appreciate the community feel and high-quality customer service experience they receive on campus. Our MRU community truly shines on event day."
Students fearful of the current economic climate are encouraged to attend to get a sense of the job market out there. Exhibitors are actively searching for talented students and graduates. To participate, organizations must have vacancies and are more than willing to discuss current and future employment.
"Even if you are not looking for work, students should consider the value in learning how organizations hire and practice having face-to-face conversations with professionals. The fair is also a great opportunity to learn about careers and jobs that you may not be aware of. It's one more way to see how your degree can translate into a tangible future career."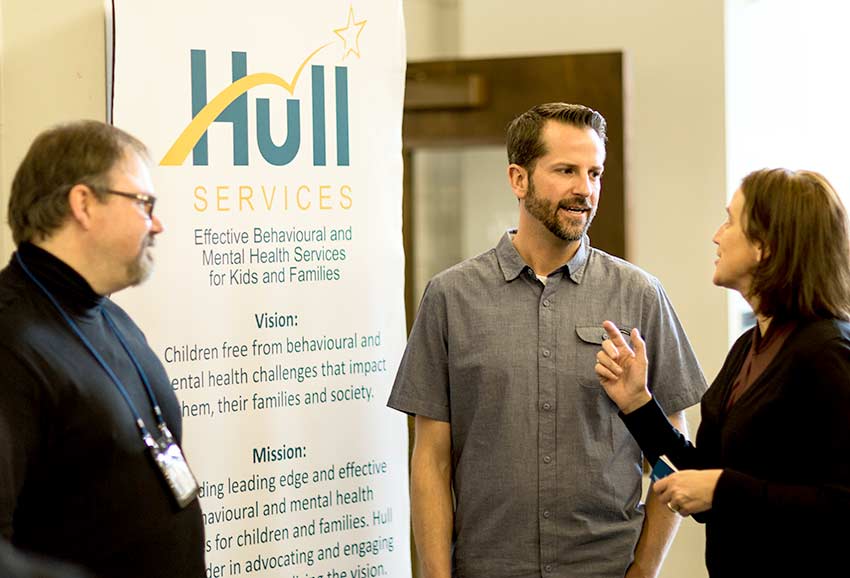 Regularly at the fair, many companies are represented by MRU alumni who are returning to campus to recruit current students into roles at their organizations. They recognize the value of their education, see the high quality and engaged students at MRU and want to help them open doors towards their future career goals.
One of those Mount Royal alumni is Ericka Emes, manager of marketing and promotions with Hockey Alberta. Emes left campus in June 2014 with a Bachelor of Business Administration degree, majoring in marketing. She recalls her time at Mount Royal as an overwhelmingly positive experience, placing great value in the hands-on learning and real-life experience.
"My educational experience at Mount Royal University was and is still one of my favourite memories. I am excited to see all the new graduates and hear about what they have to offer. I am sure that I will even learn a thing or two," says Emes.
What exactly are her and Hockey Alberta looking for? The position they are hiring for is the role of special projects coordinator, designed to give the worthy applicant the experience that will benefit his or her education and career ambitions.
"They should possess the ability to work independently using initiative and techniques to complete projects and prioritize workload efficiently. Additionally, we are looking for a student who is hardworking, a self-starter, and who possesses the ability quickly learn while keeping it fun when working with a team."
With more than 20 nonprofits in attendance, students can also explore available volunteer and practicum positions related to their programs of study.
Mount Royal's Student Affairs and Campus Life department will also be present, promoting a variety of on-campus paid, volunteer and student leadership opportunities. Throughout the year, more than 25 on-campus areas have student positions available.
Those planning to attend are encouraged to bring their resume, aspire to gain contacts and dress for success.
Learn more about Career Services at Mount Royal.
March 2, 2018 ― Jonathan Anderson
Media request contact information.
Have a story idea? Please fill out this form.