Mount Royal University Nursing and Continuing Education students "team up" with Calgary Flames
Students volunteer with the Flames Foundation for Life to bring health camp to Calgary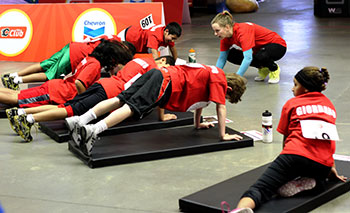 Personal Fitness Trainer students and graduates carry out fitness testing protocols for adults and children during the Calgary Flames Health Training Camp Jan. 10. 2015. ~ Photo Courtesy of Faculty of Continuing Education and Extension
The last time the 'Dome saw so many blue getups the Maple Leafs were in town!
About 25 Mount Royal nursing students donned their MRU blue while demonstrating their classroom knowledge alongside about 25 Personal Fitness Trainer Diploma students at the Scotiabank Saddledome on Jan. 10, 2015 to support the inaugural Calgary Flames Health Training Camp.
The Calgary Flames Health Training Camp, a new pilot project by The Flames Foundation for Life and Calgary Flames' CEO and President, Ken King, is a fun and informative event that aims to promote the importance of living active and healthy lifestyles. The event was highly supported by volunteer MRU Bachelor of Nursing students and Personal Fitness Trainer Diploma students, and featured a variety of fitness testing stations, sports-registration opportunities and interactive information stations to provide education on nutrition, wellness and proper exercise.
The future grads put their new skills to practice at fitness testing stations monitored by health care professionals, including the Flames team doctor, testing and assessing adults based on body mass index (BMI), blood pressure and cardio/recovery.
"The inaugural event was a resounding success," said Maggie Quance, PhD, RN, chair of the School of Nursing and Midwifery at MRU.
"By 10 a.m. everyone was on a roll, assessing clients. Students were very visible in their MRU blue scrub tops. Many students have already said that they are keen to participate again next year if the opportunity is there.
"(They) really enjoyed working alongside the fitness assessors and physicians and being considered true partners in a health promotion activity."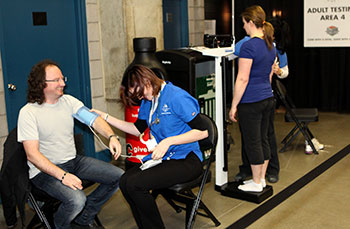 Adults were assessed on their body mass index (BMI), blood pressure and cardio/recovery. ~Photo courtesy of the Calgary Flames Health Training Camp
As the importance of being physically literate becomes more recognized, the Flames have stepped up to help people of all ages get a few strides closer to scoring a healthy lifestyle. The Health Training Camp invited adults and children ages eight to 12, free of charge, to get real about healthy living.

"We want to educate, motivate and inspire healthy living and help to create the healthiest city in the world," said King.
The usually fan-filled 'Dome was transformed into a community-serving health facility. Concession stations were turned into fitness testing and interactive information stations that provided education on nutrition, wellness awareness and proper exercise techniques. Healthy food samples and advice were given out by SAIT's Nutrition for Healthy LifeStyle's students. Youth participants had the chance to learn about the importance of healthy eating and exercise habits from the professional athletes in appearance, including players from the Calgary Colts and the Calgary Bantam Football Association, Sam Bennet of the Calgary Flames, as well as Anthony Parker and Randy Chevrier of the Calgary Stampeders.
A means to inspire and help the community to practice healthy living, the Calgary Flames Health Training Camp looks to educate people so that they can leave with a clear action plan and achievable goals.
Laura Camelo - Jan. 21, 2015