This is What I Want to Tell You
Generations collide as English majors pen book with Garrison Green seniors
When Monica Schmidt sat down with Mary Fenwick to collaborate on a creative writing adventure that would have Schmidt pen a narrative on Fenwick's life, she never expected to form such a strong bond with her new creative collaborator.
After all, Fenwick is more than 50-years her senior. What could the two women possibly have in common?
"It was more of a surprise to me to experience a sense of kinship with (Mary) because of us actually not being related than it was because of our age gap. I think the connection between us is strong because we don't give much importance to our chronological ages in terms of relating to one another," said Schmidt, who is one of six MRU English students who took part in the inaugural Writer In Residence Program between Mount Royal University and United Active Living's Garrison Green senior home.
"Right from our first meeting, we never felt that our relationship was one of interviewee and interviewer. Rather, it was a relationship of two women - two people - getting to know each other and sharing stories; enjoying each others company."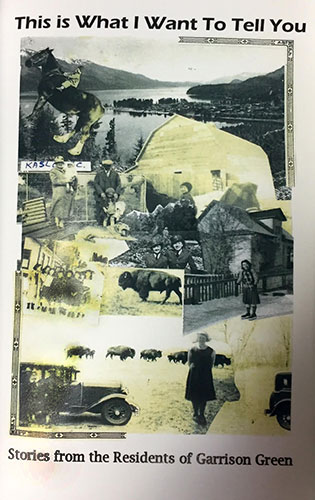 The project came to fruition last fall (2015) when several residents of Garrison Green began thinking about how they could start a project to bring their life-stories to the page. United Active Living's management loved the concept and approached MRU's English department about whether collaboration between the nearby university and the seniors' home might be established.
David Hyttenrauch, chair of MRU's English, Languages and Cultures Department said faculty members in the English department immediately agreed that they wanted to work together in some way. But how?
"United Active Living originally thought one writer in residence might work," he said.
"We don't really have a faculty position available to do that. So we sat around the table and brainstormed and said, 'okay if we place some students over there, with creative writing experience, who could work with the seniors to draw out their life experiences and write about them collaboratively … could this work?'"
Established as a directed readings course, Hyttenrauch and the English department put the call out to some of their senior students. Schimdt was selected for the pilot project, which earned her and fellow students 3-credits towards their bachelors' degrees.
 

"The students said it was exactly the kind of experience they haven't had yet in university. There's something a little artificial sometimes about classroom work for a writer,"
- David Hyttenrauch

 

Each student was paired up with a resident of the seniors home and tasked with coming up with creative ways to work together to create a story or creative writing assignment inspired by their partner's life. The end results were encapsulated in a book, This is What I want to Tell You, Stories from the Residents of Garrison Green, published by the English Department and available at MRU's Library.
This is What I Want to Tell You is an example of life writing, a style of composing that can incorporate everything from biographical, autobiographical, memoir, blogs, multimedia and more. Students worked hand-in-hand with residents to pen the 85-page book that tells stories through poetry, essay, and even recipes.
Schmidt and Fenwick chose to focus on a period of Fenwick's life growing up in Lethbridge during the great depression. The story starts in a biographical tone, but then subtly transitions into a creative writing style that has readers imagining what it must have been like for Fenwick to experience the so-called Dirty Thirties first hand as a child, eventually growing up to marry, and then move to Calgary as a young woman.
"There's become a really definite separation between generations, and with projects like this (This is What I want to Tell You) we can bridge that gap," Schmidt said, when interviewed for documentary-style piece on the project made by United Active Living.
"(Mary) and I are going to stay friends. I've learned so much from Mary on this project. She is someone who embraces life. It doesn't matter what you story happens to be we are all just people and we all want to connect together."
In the same video, Fenwick expresses her own admiration for the student alliance.
"It's a wonderful thing for us to see young people. It expands our vision. It makes us look back on our life and it shows young people that everyone over 85 isn't 'out of it'," said Fenwick, smiling.
"(Monica) is very creative. She's a friend. I'll be seeing her from now on regularly."
The class is one that Hyttenrauch and the English department intend to nurture and pursue further. The department is in the midst of putting together a structured course around life writing. Seven students are currently registered in the winter (directed readings) course and will produce and publish another book in collaboration with Garrison Green in 2016.
"We feel it's incredibly important to not only student and resident, but to the community," Hyttenrauch said.
"In places such as Denmark, they have programs where a senior citizen complex is located on the same campus as a university - there's something in the air right now about bringing generations together. We know this is important for learning about our own culture and society. "
Feb. 24, 2016 - Theresa Tayler