Community Service Learning for International Field Schools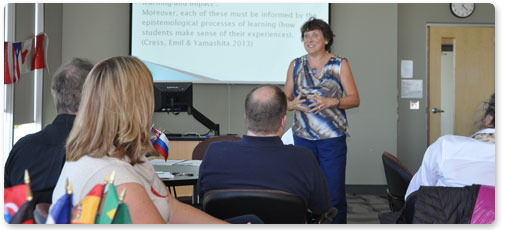 Fourteen faculty members came together on Monday, October 2, 2013 to talk about the importance of international community service learning (CSL) in a workshop with Victoria Calvert.
Victoria normally teaches management and entrepreneurship for Mount Royal's Bissett School of Business; however, this year she has been partially seconded to launch a Community Service Learning (CSL) unit within the Academic Development Center.
Her session on successfully integrating CSL into international field schools was co-sponsored by the Office of International Education and the Academic Development Center as a way to help faculty members who have led, or want to lead, international field schools with a CSL component.
Victoria's passion for CSL is evident. In the past seventeen years Victoria has designed and taught three courses based upon CSL pedagogy (including the recent Field School to the Cook Islands), has presented papers on CSL at more than a dozen conferences and has served as co-program chair for the first CSL conference hosted by the University of Saskatchewan in 2012.
"International Community Service Learning gives students a deeper, richer experience. It prepares them to be citizens of the future," says Victoria.
For Victoria, international service learning projects allow students to go beyond the surface when travelling to other countries and truly engage them with the local community.
In addition to this session, Victoria has developed three other workshops on CSL, including Service Learning Research and an Assessment Learning Workshop for those using CSL in their courses. For more information about upcoming sessions click here.
"There is a huge appetite from faculty to integrate service learning into their classes. After the workshop, over 38 faculty members expressed interest in attending other service learning workshops," says Victoria.
- Andrea Morrow, October 2013