Learning from the Experts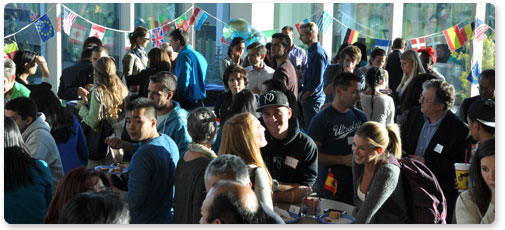 On Monday, September 23, 2013, Mount Royal's International Business Program hosted "An Evening with Industry and International Business Faculty". The event attracted over one hundred people and was the first of five events in a new International Business Connection series.
For Halia Valladares, Program Chair, organizing events like these are crucial for students studying international business.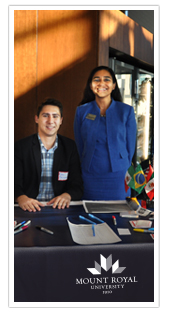 Pirvulescu and Valladares welcome guests to the event.
"The aim of the event was to strengthen ties with the private sector and expose students to the types of jobs and experiences they will be able to have as international business professionals. It also gives the opportunity for the students to network, learn about exchange opportunities abroad and apply the knowledge they learned in the Cross Cultural Management course," says Valladares. International business student Radu Pirvulescu agrees with Valladares saying that the event helped him understand the variety of opportunities within the international business world.
"It was really good to chat with three people who have completed the international business minor here at MRU. They told me about their struggles and how they converted from business course to actually working in the business working world."
The evening also featured a "speed dating" session which allowed students to speak with over 40 international business professionals about the international business realm and get advice on how to be successful in the industry.
This year's participants included:

Victor Rosales-President, Canada-Mexico Chamber of Business
Sara Luc- Rainmaker Global Business Development
Mehdi Ali-Director, M-Cap Inc.
Sasha Musij- Business Development ,UK Trade and Investment
Vanessa Riviere-Government of Alberta, Trade and Investment
Peter Kinash- CFO and India COO- Replicon Peter Wallis-Van Horne Institute
Neeraj Jain-Social Activist from India
Faculty Table- Victoria Calvert, Anna Korwin, Anja-Lina Wamser, Enoc Velazquez, Halia Valladares
Faculty Table- Tony Wallace, Maydelin Nunez, Stephen Sit, Frank Cotae
Andrea Morrow- International Education Opportunities
Valladares says she is extremely pleased with the event and has already received questions about the next event.
- Andrea Morrow, October 2013