After having a life-changing experience in the July Summer Immersion program, Brenda Rodriguez, returned to Mount Royal from Mexico this winter to pursue her career and improve her English.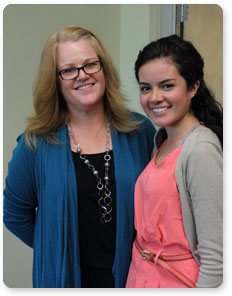 Brenda with her teacher, Lorry Kelly.
Now studying in the English for Academic Purposes (EAP) program in the Languages Institute at Mount Royal, Brenda's goal is to work on improving her English so that she can continue at MRU in the Bachelor of Science degree.
For Brenda, the Summer Immersion Program not only improved her English but it also taught her about the importance of learning and interacting with other cultures.
"I came back to my country and realized that I love science, but I love meeting new people and learning about new cultures. Since Canada is such a multicultural country I thought it was the best place for me."
In addition to her experience in the Summer Immersion Program it was her final conversation with her English teacher, Lorry Kelly, which inspired her to return to MRU.
"At the end of the Summer Immersion Program, Lorry came up to me and told me that she knew I would come back. I had no plans to come back at that time but when I returned home I knew that I was going to go back."
Arriving in January this time, Brenda says she was shocked at first by the snow but has learned to adapt and accept the climate. "I had never seen snow before. It was hard at first but once you accept that you are here you get used to it."
To help her immerse and meet new friends Brenda has already signed up to volunteer for the Student's Association and to help with International Education Day. She says that getting involved and meeting people has really helped her adapt.
"This summer I would really like to work as a CAL (Cultural Activities Leader) in the Summer Immersion English Program and inspire other students to return to MRU after the program."
For more information about the Summer Immersion English Program click here.

- Andrea Morrow, January 2014