2013 International Networking:
MRU's ELAP recipients present to delegation on November 14th.
In the fall semester, Mount Royal was represented as many national and international network meetings.
Alberta Teachers of English as a Second Language (ATESL)
Mount Royal's Languages Institute staff played an important role in the planning of the 2013 ATESL Conference. Many volunteered on the Conference Planning Committee: Gerry Landreville (Conference Co-chair), Audrey Olson, Silvia Rossi and Chriss Szabo (Program Committee), Dan Reid (Publicity), and Roberta Wallace and Lorry Kelly (Hospitality) while other instructors and staff members presented at the conference.

Canadian Bureau for International Education (CBIE) Annual Conference
Kyla Sinclair represented Mount Royal at the Annual Conference held in Vancouver in November.
MRU Hosts Emerging Leaders of the Americas Program Delegation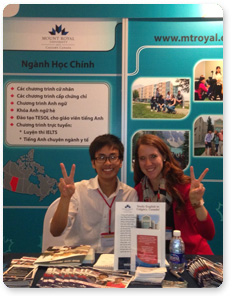 Andrea Morrow and translator, Hoàng Đại, at the Education Fairs in Hanoi, Vietnam.
Mount Royal University hosted a delegation of 25 university administrators from the Americas on November 14th. The delegation was on a Western Canadian tour organized by CBIE and funded by the Department of Foreign Affairs and Trade Development (DFATD).
European Association for International Education (EAIE)
Lorna Smith and Dianne MacDonald represented Mount Royal at the Annual Conference held in Istanbul, Turkey in September. A pre-conference daylong session hosted by DFATD and the Embassy of Canada in Turkey introduced Canadian and Turkish universities to each other.
The 5th Annual Canada Education Week in Vietnam
Andrea Morrow travelled to Hanoi and Ho Chi Mihn City to represent Mount Royal University at the 5th Annual Canada Education Week.