Expanding Opportunities in Brazil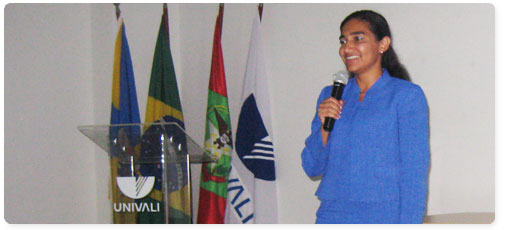 In six short days, Mount Royal's Chair of Entrepreneurship and International Business, Halia Valladares, travelled to Brazil with an Alberta-based delegation, gave a lecture on doing business in Canada and made many contacts for future collaborations. She also initiated the process for the signing of a partnership agreement between Mount Royal and UNIVALI University.
From October 4 to 10, 2013, Halia travelled to the Santa Catarina region of Brazil as part of the Federation of Business Associations of Santa Catarina (FACISC) mission. Mount Royal University, The Van Horne Institute from the University of Calgary, Cross Bridge Consulting and the Calgary Logistics Council were all asked to travel to the region to help develop their logistics infrastructure and attend the FACISC annual conference.
The mission was initiated after FACISC held a meeting last September in Calgary to exchange ideas about businesses opportunities and look at ways to build a partnership between the province of Alberta and the state of Santa Catarina.
"I went to the meeting last year and made some good connections, but never heard anything else from them. Then in September, after further meetings with the Department and the Office of International Education, MRU was invited to be a part of the mission."
Halia immediately made adjustments to her schedule to ensure she could be a part of the delegation.
"It is important to be flexible and open minded whe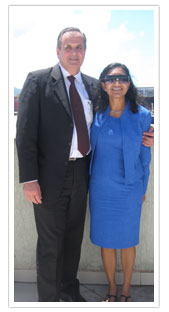 Halia met with Onézio Gonçalves Filho, City Secretary, Secretary of Economic Development of the City of Itajai.
n dealing in the international realm. Making myself available to participate in the mission allowed me to be able to represent Mount Royal on this important mission."
In addition to advising the Brazilian business realm, Halia visited the Universidade do Vale do Itajaí (UNIVALI) to initiate the process for the signing of a university wide agreement with Mount Royal University. The partnership will not only foster student exchanges, but will also focus on faculty exchanges, joint research possibilities, field schools and internships for both institutions.
"The idea was to start in the area of Supply Chain Management, as this region in Brazil has six ports and Brazil of course is one of the main developing economies in the world," says Halia.
Next August, Halia plans on leading a group of MRU students to Brazil for a two-week field school where they will learn about international business and logistics.
"I made a lot of contacts and visited a few ports and a few factories, one that is one of the major exporters in Brazil. Here the Logistics Manager spent a lot of time talking with me about working with students to help solve some of the logistic problems they have, which will be a great service learning component to the field school."

Overall, the short six days proved to be a success and Halia and the Office of International Education look forward to collaborating with UNIVALI on the development of new and exciting international programs and projects.

For a list of Mount Royal's international partnerships click here.

- Andrea Morrow, October 2013