The Opportunity of a Lifetime, Twice Over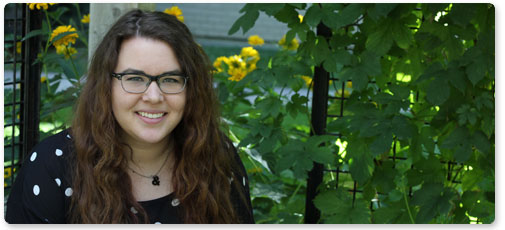 An e-mail at 3 a.m. in June finally ended Sarah Lamoureux's wait to hear if she had received the Ernst Mach grant.
She had spent all of February preparing the grant application and had heard nothing from the organization since she had submitted the paperwork.
"I didn't go back to sleep," said Sarah of that fateful evening back in June. "I called my mom, and I don't think she went back to bed either."
The Ernst Mach grant is financed by the Austrian Federal Ministry of Education and Science. There are two different grants available. Sarah received the grant to study at an Austrian University of Applied Science. The grant exempts Sarah from paying tuition on her exchange and provides her with 940 euros a month to cover other expenses, such as rent and food. The grant requires candidates to have completed at least four semesters of university courses and be proficient in either English or German.
Sarah, 19, is going into her third year of Information Design at Mount Royal University. In January 2014, she is going on an exchange to FH Joanneum in Gratz, Austria.
Her parents have been very supportive of this decision. "They are surprisingly alright with me going on an exchange, considering they didn't want me to leave Calgary in the beginning," she said. "They are looking at it as an opportunity to travel," she added.
Sarah didn't know what she wanted to do when she first graduated high school. And since her parents wanted her to stay in Calgary, her choice of schools was limited.
"I applied for Architectural Technologies at SAIT and I got in," she said. "I also applied for Information Design at Mount Royal, not really knowing what I was getting myself into." She took a chance and chose Information Design. "Within my first few days in class, I knew that that was where I was going to stay," she said.
Sarah mentioned that her love for Information Design was one of the reasons she wanted to go to Austria. "Here, if you say 'I am studying Information Design', no one knows what you mean," she explained. "In Austria or Germany, they know exactly what you mean. That is where Information Design is from."
Another reason that cemented Sarah's decision to go to Austria was her love of museums. "I know there is a really cool modern art museum in Gratz," she said. "And it is shaped like a blob, which is really exciting."
Once the semester is done, Sarah and her mother plan on travelling in Europe and visiting art museums.
Her long term plan is to go back to FH Joanneum to get her Masters degree in Exhibition Design. "I want to design museums. Basically everything you would ever need to know about building an exhibit is in that program."
-Jocelyn Doll, September 2013