MRU students and Sheldon Kennedy team up on child abuse
| | |
| --- | --- |
| | |
| Sheldon Kennedy, lead director of the Sheldon Kennedy Child Advocacy Centre and Order of Canada recipient, addresses MRU students and faculty at Stephanson-Cooke Event. ~ Photo by Kelsey MacCuaig | |
Intervention strategies presented at Mount Royal University Interprofessional Event
As one of the most influential figures in child welfare in Canada, Sheldon Kennedy knows how to create positive change in our communities. On Oct. 28, the former NHL'er shed light on the issue of child abuse during Mount Royal University's Stephanson-Cooke Interprofessional Event.
"The event brings together and engages students who will be important members of the interprofessional health team in the future," said Caroline Peplinski, event coordinator and nursing student at Mount Royal. "Their engagement and discussion around the issue of child abuse is necessary."
More than than 400 students from Mount Royal's Faculty of Health, Community and Education came together at the Roderick Mah Centre for Continuous Learning for a wide-ranging discussion around strategies to prevent and intervene in cases of child abuse.
Gaye Warthe, PhD, professor and chair of the Department of Social Work and Disability Studies at Mount Royal believes engaging in these conversations is crucial for the success of the community's future professionals.
"Events like this are important because they help prepare students to work together across professions in real-life situations by gaining insight from professionals already working in the field," said Warthe.
"Mr. Kennedy will be able to provide the students with a unique perspective and really shed light on why this conversation is so important."
For Kennedy, lead director of the Sheldon Kennedy Child Advocacy Centre and Order of Canada recipient, volunteering his time to the event was one more way to help ensure that no child endures the abuse that he encountered.
"It's extremely encouraging to see the Faculty of Health, Communication and Education come together in this type of forum to help future front-line professionals learn more about the issue of child abuse," said Kennedy. "The event provides a greater awareness that will help them deal with instances of child abuse that they may encounter in their professional fields."
Kennedy is well known for courageously revealing the sexual abuse he suffered as a teenager while under the care of his junior hockey coach, Graham James. He has dedicated his life to raising awareness around childhood sexual abuse, and has been successful in pulling together private and public-sector partners to improve child protection.
During his keynote address, Kennedy read from his book, Why I Didn't Say Anything, and discussed how his experience with abuse guided his involvement with the Sheldon Kennedy Child Advocacy Centre.
This was the third annual Stephanson-Cooke Interprofessional Event led by Mount Royal students. The annual symposium is sponsored by Agnes Cooke, a registered nurse and a long-time Calgarian. Cooke supports students in Nursing and Midwifery programs at Mount Royal through the Don and Agnes Cooke Bursaries.
Naomi Park, event coordinator and Bachelor of Education - Elementary student at Mount Royal, recognized the significance of the event and the benefit it holds for future professionals.
"We need to talk about child abuse in all contexts," Park said. "Implementing these discussions in a symposium is one step forward in getting those affected the help they need."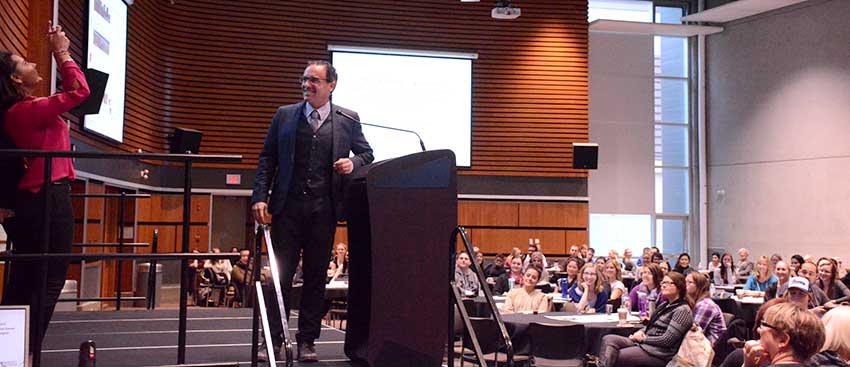 Dean Chad London, PhD, snaps a photo at the Stephanson-Cooke Interprofessional Event for Faculty friend and event supporter Agnes Cooke. ~ Photo by Kelsey MacCuaig

Nov. 4, 2015 - Kelsey MacCuaig