English instructor vying for top spot among 35,000 speakers
2017 Toastmasters International Speech Contest goes Aug. 23 to 26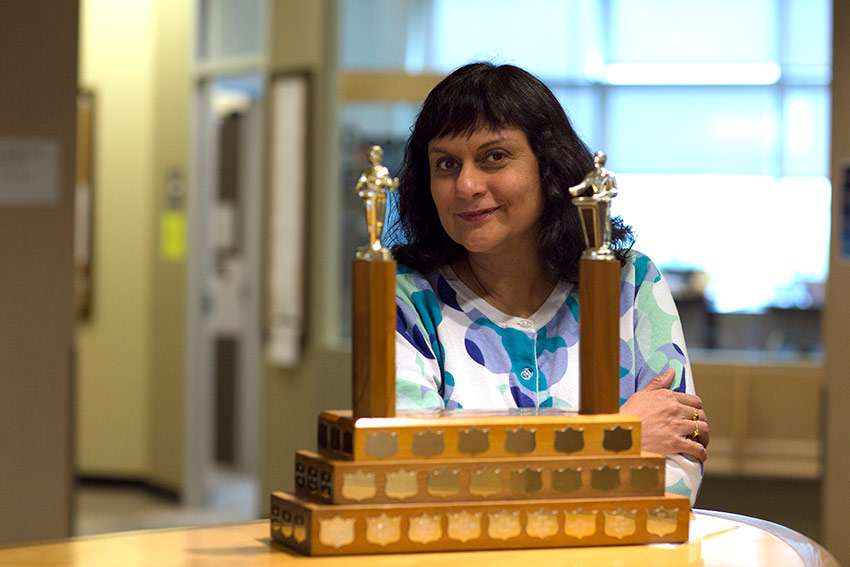 In her prize-winning speech, English professor Kelly Kaur shares a serendipitous encounter with a man named Fred.
Though the story is three decades old, it has taken on fresh significance today.
It begins with Kaur, then an undergraduate student at the University of Calgary, riding a tour bus bound for Tijuana via Los Angeles. Without warning, Fred - a native of Haddonfield, NJ estimated at nearly thrice her age - approached her. He insisted on getting her name and address.
"I was quite surprised because we had nothing in common," recalls Kaur, who has lectured at Mount Royal University for 27 years.
What started off as an awkward encounter soon bloomed into a longtime friendship. As Kaur tells it, Fred did not have many friends of colour - and she was unfamiliar with American culture. They got along famously.
Fred wrote a letter to Kaur every month for five years. When Kaur graduated from the U of C, she received $20 in the mail courtesy of her American pal. Kaur even ventured out to the East Coast to meet Fred and his wife.
"It turned out to be a wonderful story because it shows we are all human beings," said Kaur.
If the story sounds a bit like a parable, that's because it is.
Kaur contrasts her experiences with the cynicism, political divisiveness and antisocial tendencies that "too often" characterize life in 2017.
"What's happening now got me thinking," Kaur said. "What if Fred had come to me with a gun instead?"
The tale of Fred garnered critical acclaim from members of Toastmasters International, a non-profit educational organization that bills itself as a world leader in communication and leadership development. Members of the Mount Royal community are part of their own club, which meets on campus in addition to engaging in levels of friendly competition with other clubs across the city and beyond.
This spring, Kaur was crowned District 42 International Speech Champion 2017. In taking top prize among colleagues from southern Alberta and Saskatchewan, she earned a ticket to compete in the 2017 Toastmasters International Speech Contest from Aug. 23 to 26 in Vancouver.
It is the first time in nine years the international event has been held in Vancouver after previous stops in Washington, D.C., Las Vegas and Kuala Lumpur.
If successful in the semi-finals earlier in the week, Kaur will get a chance to compete for the grand championship of the nearly 35,000-member organization.
First, she needs to finish her final speech. It's a process that takes weeks of self-talk, moments of inspiration and a lifetime of ideas to pull from. The process gives her empathy for students struggling to put pen to paper.
"When my students struggle, I feel nothing but love and empathy for them," Kaur said.
Whatever the outcome, Kaur remains grateful for the opportunity to share the spotlight with a supportive group of friends and colleagues.
"Calgary has so many amazing speakers," she said. "To make it this far is very significant to me.
"It's like my Olympics."

The study of Englishmeans of understanding our identities as individuals in communities, whether local, global or cultural.

July 27, 2017 ― Bryan Weismiller
Media request contact information.
Have a story idea? Please fill out this form.