Maker Studio provides tools for creative learning
Education students bring to life the big ideas of social studies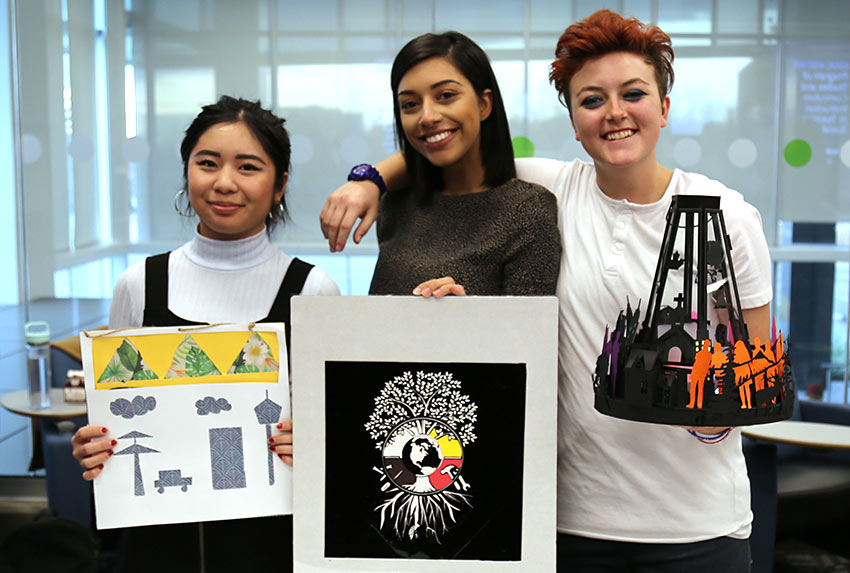 The power of Mount Royal's new Maker Studio at the Ridell Library and Learning Centre to inspire creative learning was on display recently with the showcase of projects from Professor Tanya Stogre's fourth-year Bachelor of Education - Elementary students.
Stogre created an assignment tasking students with taking the first 12 pages of Alberta's elementary social studies curriculum - which are called the Front Matter - and representing the most important parts they identified using tools found in the Maker Studio.
"They had to use what technology, or combination of technologies, would be best to create their vision," Stogre says. "The Front Matter is the most important part of the social studies curriculum because it's all about the philosophical underpinnings and the big concepts, the big ideas, rather than the specific outcomes of each grade. It's really about, 'how do I, as a teacher, take up the subject matter and discipline of social studies?' If you don't understand that for yourself, you have a hard time translating that into the classroom."
The Maker Studio has 3-D scanners, 3-D printers, virtual reality technology, a button maker, a die cutter, an industrial sewing machine, an embroidery machine and circuitry and robotics kits available for students in all disciplines to push the boundaries of their projects and assignments.
Taylor Gierl used the studio's carving machine and computer design systems to create a wooden set of gears representing the six strands of social studies.
"When I was reading, I was thinking about a system that works like a well-oiled machine. Each strand of social studies - whether it's geography, history, land, government, culture, global citizenship - they all work together to create a movement of learning. The teacher is what pushes students to work, so they are the 'input.' The gears are the six strands and the 'output' (encompasses) things like citizenship and identity, inquiry based learning and lifelong learning."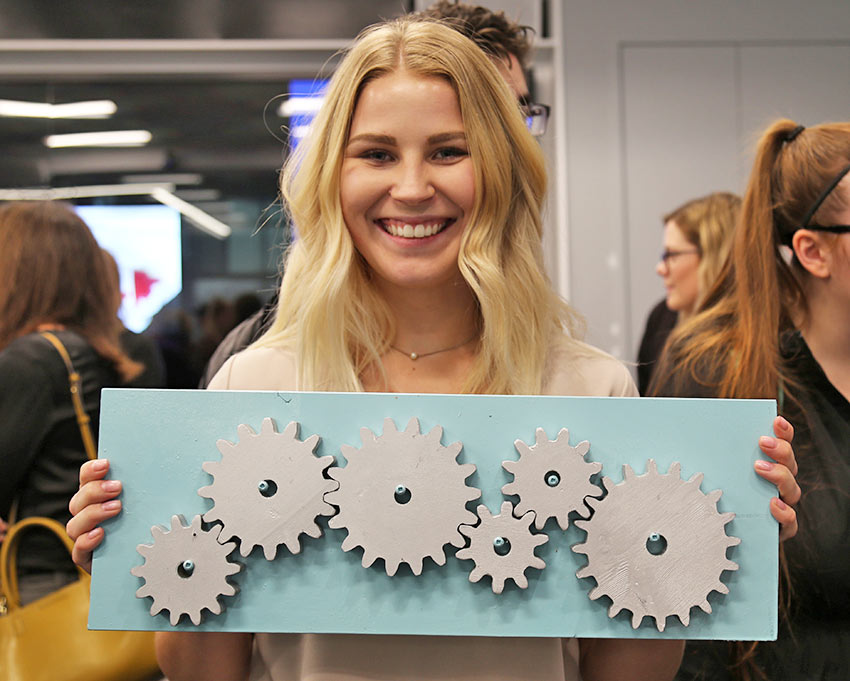 A computer program helped Gierl devise the correct mathematical equation to format and size the gears to all seamlessly work together.
Nikka Peredo, Jasdeep Ubhi and Stefania Polga each used the cameo silhouette printer to create their respective projects.
Peredo says, "It was way better than writing a paper. We got to pick the most important aspects of the curriculum that we thought we would want to teach the most, and we got to represent them in a more visual way."
Ubhi's result signifies current events, the world and diversity. "It's all the dimensions of learning, so creative thinking, problem solving and historical thinking. The medicine wheel is Indigenous Studies, and the tree represents the student and how they grow."
For visual learners like those in the education program, Polga says the project was ideal. "This helped me visualize the actual curriculum as opposed to reading it over and over and over." Her project is set up like a lantern, with sections signifying the community of people surrounding teachers and learners, the land that we live on, power (which is represented by buildings), where education happens (demonstrated by a school), nationality (symbolized by the Canadian flag), Indigenous populations and a house of worship to represent religious diversity.
Haillee Beijer used the sewing and embroidery machines to create a group of interlocked fabric dolls. She built her own patterns digitally, and says the project involved a lot of creative problem-solving. Her dolls represent values such as honour, respect, perspective (such as those of Indigenous, immigrant and multicultural populations), heritage, history and the land.
"I focused on identity and citizenship," says Beijer. "I made them all individuals, but they're all connected. It's about having a wholistic view of the future."
Beijer says that using the Maker Studio also helped her learn and visualize the subject matter better.
Library staff were instrumental in helping the students get the most out of their experience with the Studio, says Stogre, and she was amazed at and proud of the results.
"They really persisted, they problem-solved, they were resilient, creative … all of the things I had hoped. They made it happen," says Stogre.


Find out about Mount Royal's Bachelor of Education ― Elementary program.

Nov. 7, 2017 ― Michelle Bodnar
Media request contact information.
Have a story idea? Please fill out this form.