Massage Therapy students put their research into action
Case Study results highlight versatility of MT treatment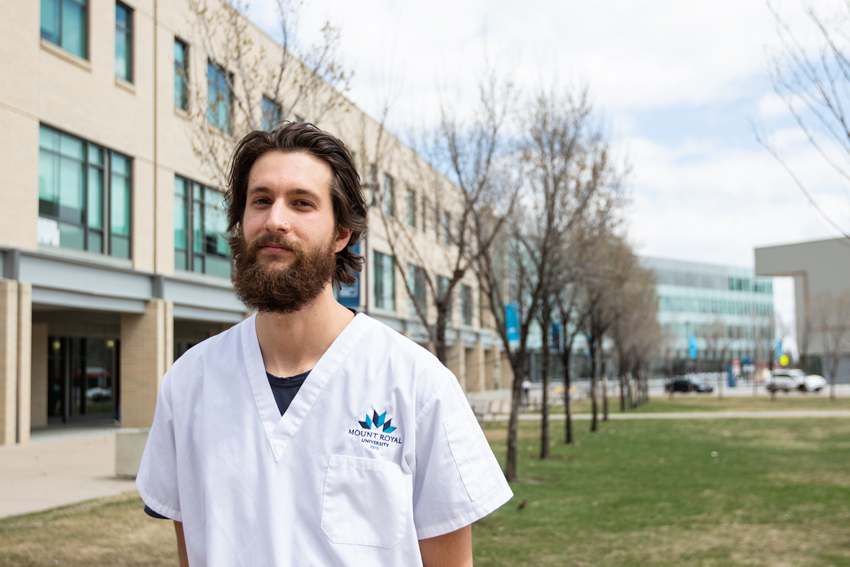 Putting knowledge into action to create life-altering change for the better is an exhilarating feeling.
Just ask Philip Beaton, a Mount Royal University Massage Therapy student. The course of treatment he created for a housebound 46-year-old woman is nothing short of transformative.
"She had a neck spasm develop out of nowhere and it progressed to the point where her neck muscle was contracted for five years," Beaton says of his client's case of cervical dystonia. A photo shows the client's head severely tilted to one side and jutting forward and down. The neck of the single mother of three was fixated in that position for years.
"She had degenerative changes to joints of the neck and pinched nerves that resulted in her experiencing eight out of 10 pain - where 10 is the most excruciating pain there is - for five years."
Beaton was one of 43 second-year Massage Therapy students who presented the results of their Case Study course on Mount Royal's Main Street on Tuesday, May 1. His client previously underwent massage therapy and Botox injections, in addition to two rounds of brain surgery to implant an electrode to try to reduce the neck spasm. None of it worked. Her condition was so severe, Beaton couldn't even measure her range of motion, as she had none.
After an extensive in-home treatment program that involved 10 80-minute sessions, in addition to a home-care exercise program, the client reported a pain level of six, and has stopped taking morphine.
"The first time I talked to her, she told me, 'My life is over.' She couldn't work, she couldn't leave the house," Beaton says. The "after" photo on his presentation poster shows the woman with her head upright and only slightly tilted. "Now, she's taking her kids to the pool. She has started driving around her neighbourhood again. The depression and anxiety related to the social isolation that comes with cervical dystonia are greatly reduced. She is starting to get her life back."
"It's an amazing feeling to know that she can do things like go to the grocery story and do the day-to-day things that she couldn't because of the pain she experienced."
Brittany Tait, MRU Massage Therapy student
When Beaton entered the program, he planned to seek employment at destination resorts after graduation, expanding his travel horizons. But his experience with the Case Study course has set Beaton on the course of a career in therapeutic massage, possibly offering a mobile service to those who can't leave their homes.
Case Study instructor Laurie Fisher, herself a graduate of the Massage Therapy program, was part of the team that evaluated the student's presentations. She was impressed with the depth and breadth of the research on display.
"This is one of the broadest groups in terms of topic, which puts forward the idea that massage is versatile in terms of treatment," Fisher says. "From chronic pain to acute traumatic injury, these case studies show the space that massage therapy holds in health care."
Graduates of the 2,200-hour Massage Therapy Diploma achieve the highest level of training required to work in Alberta and across Canada. In addition, they're eligible for transfer credits towards the Thompson Rivers University's Bachelor of Health Science degree. Students learn therapeutic and relaxation massage techniques in an integrated curriculum that features academic content alongside practical, hands-on skill development. They study anatomy, physiology, pathology, business, and research during in-class and online sessions.
"Research is an integral part of the Mount Royal community and it's a very important area in the field of massage therapy," says Gillian Lebel, program coordinator with MRU's Faculty of Continuing Education. "As massage therapy becomes more integrated into our health-care system, the need for research will only grow. The hands-on training our students receive and the scholarly rigour of our program positions them for success."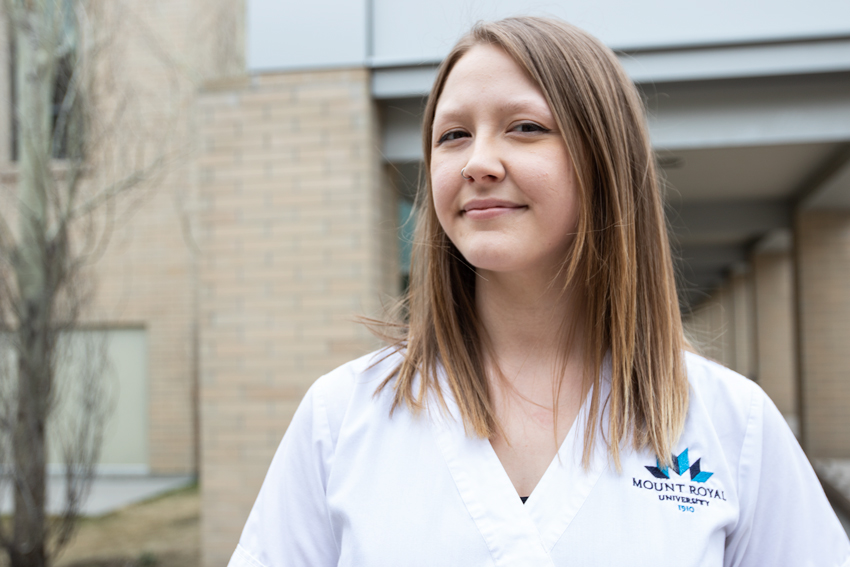 Brittany Tait also achieved success with her case study. Tait's treatment program allowed her client to resume the everyday, ho-hum activities so many of us take for granted.
"It's an amazing feeling to know that she can do things like go to the grocery story and do the day-to-day things that she couldn't because of the pain she experienced," Tait says. "And to be able to show solid objectives and results rather than a grey area from my case study is really rewarding."
The 29-year-old Airdrie resident shared her work on plantar fibromatosis. The condition occurs when a formerly benign nodule (or nodules) on the bottom of the foot grows rapidly, forming painful masses. In the case of Tait's client, some of the growths had to be surgically removed, as they caused her such pain when walking. The surgery, however, left the 52-year-old administrative assistant with nerve damage in addition to the still-painful growths.
"She had significant pain, in the range of six to eight out of 10 on a daily basis. She had reduced range of motion, especially in her big toe. I worked on the active flexion, which is a specific curling action of the toe," Tait explains. "She walked in a way to prevent pressure going on to the ball of her foot, which was affecting her gait. The muscles on the top of her foot were firing unopposed by muscles on the bottom of her foot."
Tait devised a course of treatment involving 10 weekly massages of 60 minutes each. She concentrated on the lower body, employing a variety of techniques on both sides to maintain balance. Myofascial release, joint play, trigger point release and paraffin wax were utilized, in addition to stretching and strengthening. The results have been dramatic: the active flexion of the client's big toe increased 15 degrees at one joint, 32 degrees at another.
"She has so much more mobility in her feet. She can move them in ways that she couldn't before we started treatment," Tait says. "When we started, she was seven out of 10 on a pain scale. By the very last treatment, she was a 2.5 out of 10, which was the lowest we had seen. She had averaged three out of 10, which is quite a decrease."
For more information on Mount Royal's Massage Therapy Diploma, visit mru.ca/Massage.
May 2, 2018 — Ruth Myles
Media request contact information.
Have a story idea? Please fill out this form.