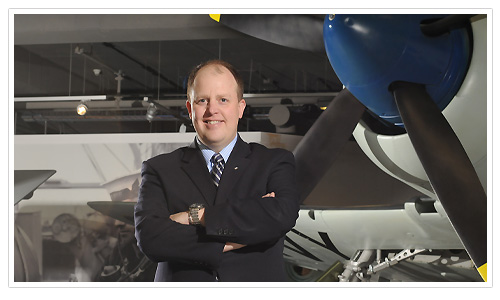 When Entrepreneurship Instructor Vance Gough asked for a couple of weeks off to attend military training during Mount Royal's busiest month - September - he expected some resistance.
After all, Gough, who received his commission from the Canadian Armed Forces in 1989 and now serves as a naval reservist, knew his request would mean extra work for his co-workers and extra understanding from his students.
"When I got the job at Mount Royal (in 2000), I told them I am a naval reservist and they said that it wasn't a problem. But I wasn't really sure they understood what that meant," says Gough. "Most of the time - if I need to go on a course or something like that - I could take vacation time, but it's not always that easy."
Such was the case in the fall of 2007, when Gough was offered the opportunity to be trained in Ontario as a Public Affairs Officer for the military. This meant he would be out of town during Mount Royal's busiest time of the year.
"I needed two weeks off in September and I was like, 'How am I going to do that?'" he says.
Support above and beyond
But, Wendelin Fraser, dean of the Bissett School of Business, didn't hesitate in approving his request.
"She just said, 'We'll make it work.' It was phenomenal. Everyone really came together to help me out."
Aside from receiving full support from Fraser, Gough's plans were also supported by President Dave Marshall, Provost and Vice-President Academic Robin Fisher, his co-workers and his students.
"The people in my own department were amazing - I am so thankful for those people who took over my class while I was gone and to my students for being so understanding. For those couple of weeks when I was away in September, I had to do podcast lectures. I wouldn't say it's the ideal way to teach, but it worked."
Soon after Gough was trained as a Public Affairs Officer, the Canadian military offered him a job in Afghanistan which meant more training and an overseas deployment.
"They wanted me to serve as part of the Provincial Reconstruction Team in Kandahar City at Camp Nathan Smith. I was amazed. For a new guy who was just recently trained, that was a phenomenal opportunity."
And, once again, Gough says Mount Royal came through. In absence of a policy, Fraser ensured Gough had a paid leave to attend qualification courses, as well as deployment training in Kingston, ON, at Fort Bliss, Texas and the Canadian Forces Base in Petawawa, ON, and, ultimately, a leave to deploy.
Since Gough was a full-time instructor and department chair, this support meant finding other individuals to teach his classes on short notice and finding a replacement for his administrative duties.
Award earned
So when Gough learned of the Canadian Forces Liaison Council's National Employer Support Award, which honours employers who have shown outstanding support for the primary reserve force, he knew exactly who he wanted to nominate.
"I would have never been able to do this if it wasn't for Wendelin allowing me to take military leave. She was so supportive. She even had it set up so I could do a blog from Kandahar."
On March 6, Fraser received the National Employer Support Award, which was presented to her by Lieutenant-Governor Norman Kwong during a ceremony in Edmonton.
"I was honoured by this provincial award … but I received it for just doing what I thought should be done and what was the right thing to do," says Fraser, adding that while Mount Royal does not have a deployment policy for employees and students in the Reserves, it has a long history in supporting their efforts.
Fate affects deployment
Although Gough never made it to Afghanistan - he had a heart attack while undergoing pre-deployment training in Petawawa and had to return home to Calgary - he still appreciates everything Mount Royal did to support his efforts.
And, despite his health problems, he now believes everything worked out for the best.
"In hindsight, the heart attack may have been a good thing," he says.
"My job there would have been to be part of the Quick Response Team that has two Light Armoured Vehicles that go out in case of an emergency.
"On Dec. 12, one of the LAVs in the QRT got hit and we lost soldiers and there were other injuries. I know I would have been on one of those two LAVs. I think there may have been a higher power at work there."
Classroom advancement
Gough's experience as a reservist is also working out for the best in his classrooms.
"It helps in a number of ways. First, it gives me a broader perspective," says Gough.
"I've also learned a lot about leadership and hopefully I've brought some of that into the classroom."
The personable instructor adds that his public affairs training has given him new insight into effective communication. The military has also expanded his network which he uses to help his students advance.
- Tara Merrin
April 24, 2009
Link