Cougars host Huskies in hockey fundraiser
Annual hockey game supports the Canadian Armed Forces and its veterans
Sixth annual Mount Royal Remembers hockey game

MRU Remembers takes place on Friday, Nov. 24 at 7 p.m. at the Flames Community Arenas.
Tickets are available at the door beginning at 6:30 p.m.
Canadian Military personnel receive free admission.
MRU credit students, MRSA, MRFA, management and exempt staff receive free admission with MRU ID.
Cheer on the Cougars at this annual event and support the Canadian Armed Forces.
On Friday, Nov. 24, Mount Royal will continue the tradition of honouring the military as the Cougars Men's hockey team faces the University of Saskatchewan Huskies in the sixth annual Mount Royal Remembers Hockey Game.
"It's an absolute honour playing in a game that supports the Canadian military and veterans," says Jamie King, captain of the Cougars hockey team.
"All of us in Cougars Athletics can't begin to thank them enough for their service to our country and the sacrifice they have made and continue to make.
"Personally, this event means a lot to me, my friends, and family. Michael Yuki Hayakaze is a family friend that will always be remembered, and I can't begin to express how thankful I am to him and his family."
Trooper Hayakaze was killed on March 2, 2008 while driving on a supply mission after his armoured vehicle struck an improvised explosive device on a road in southern Afghanistan. Hayakaze was 25 years of age.
Supporting our veterans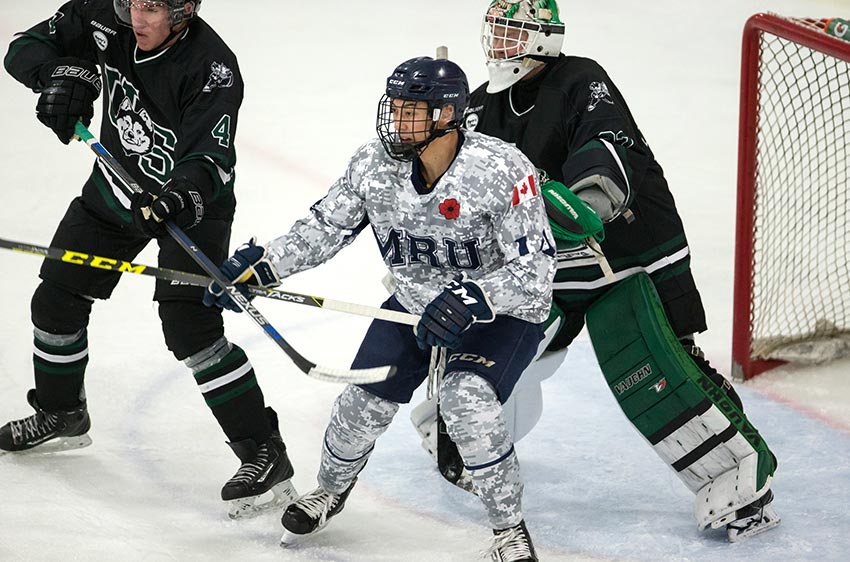 A number of veterans experience hardship, however, communities can take some comfort in knowing that there are dedicated resources available to offer support.
The funds raised from this event will be supporting two causes that support veterans - the Calgary Poppy Fund and Veterans Food Bank.
Money will be raised through a variety of activities, including a 50/50 raffle, puck toss game and cash donations at the rink.
"This is bigger than just a hockey game," explains King. "This event will raise money to support members of the military in need."
Military Memorial Bursary program
Over the past century, hundreds of Mount Royal students, staff and faculty have served in uniform and fought for Canada.

Twenty-eight Mount Royal students have paid the ultimate price in the service of this country. In turn, the University has established 28 military memorial bursaries in honour of each of our fallen.

The bursaries help current students in financial need pursue their dreams. They also teach valuable lessons of honour and sacrifice in memory of young Canadians who had similar hopes.

Nov. 14, 2017 — Rob Petrollini
Media request contact information.
Have a story idea? Please fill out this form.