New learning pathway created for military members at Continuing Education at Mount Royal
Partnership offers grads of two Canadian Armed Forces programs credit in two MRU certificates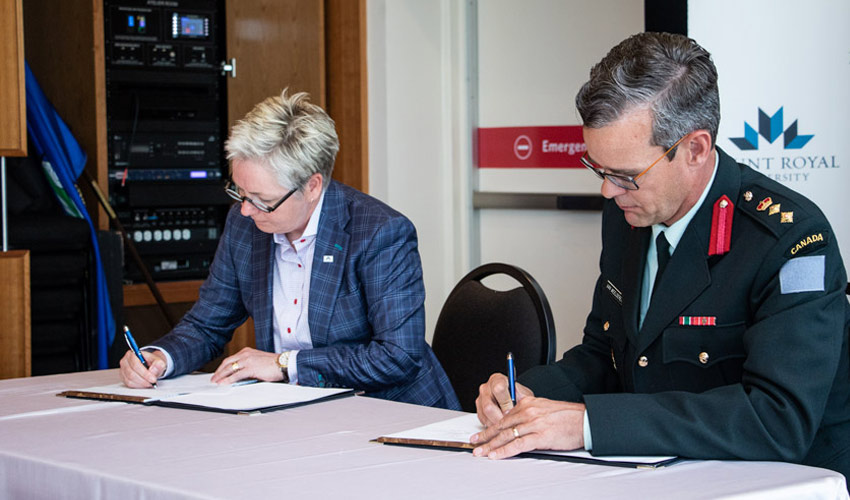 Graduates of two Canadian Armed Forces (CAF) courses can now receive credit at Mount Royal University for their achievements, thanks to a new partnership between Mount Royal's Faculty of Continuing Education and Extension and 41 Canadian Brigade Group, on behalf of 3 Canadian Division.
"Creating and supporting personalized learning pathways is at the core of what we do at Mount Royal. Being able to facilitate that for former and serving Canadian Armed Forces members is an honour," said Brad Mahon, PhD, Interim Dean, Faculty of Continuing Education and Extension at Mount Royal University. "We look forward to having them take part in our courses, as they have a wealth of unique experiences and knowledge that they can share with their fellow learners."
CAF members who have completed their Primary Leadership Qualification Course - Army (PLQ-A) and Intermediate Leadership Qualification Course - Army (ILQ- A) can now apply their credentials to Mount Royal's Project Management Extension Certificate and Leadership Development Extension Certificate.
These programs build on the graduates' knowledge and experiences with the Canadian military, adding to the skill sets that they can apply in their civilian careers.
"We place a premium on the value of post-secondary education in conjunction with the practical benefits of military training," said Col. Eppo van Weelderen, Commander, 41 Canadian Brigade Group. "Working together, we can continue to develop educated, ethical and confident citizens and leaders for Canada, whether they be in or out of uniform, leaders that can - and will - rise to successfully meet forthcoming challenges in the service of Canada."
The 41 Canadian Brigade Group is an Army Reserve Formation of 3rd Canadian Division. Headquartered in Calgary, most of its soldiers serve part time. Made up of nine units and a brigade headquarters, 41 CBG has approximately 1,600 reserve soldiers in Calgary, Edmonton, Lethbridge, Medicine Hat, Red Deer and Yellowknife, N.W.T.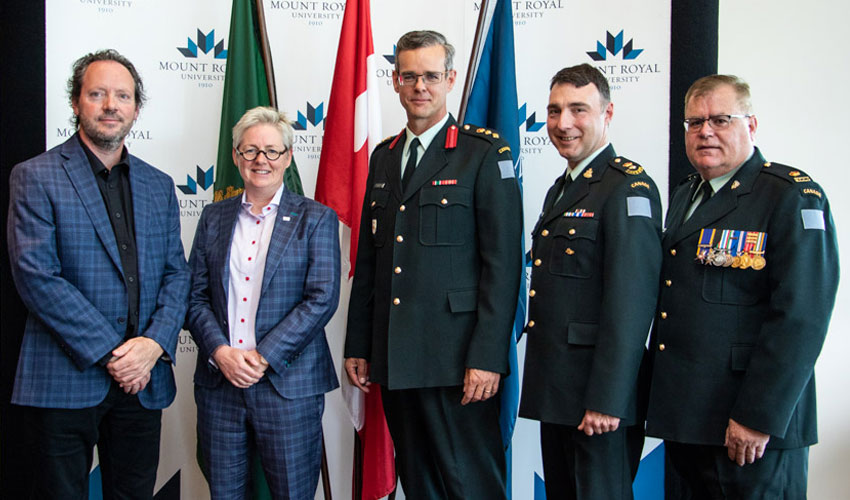 Under the memorandum of understanding signed Monday, June 4, CAF members can formalize their military training through Mount Royal's Prior Learning Assessment and Recognition (PLAR) in two programs:
Leadership Development: Students receive credit for three out of four courses - Effective Leadership; Communication and Interpersonal Skills for Leaders; and Leaders, Culture and Change.

Project Management: Students receive credit for two of the certificate's six required courses - Risk and Procurement, and Management: Human Resource, Communications and Stakeholder Management. They must also complete the Final Assessment Paper offered at MRU to receive their certificate.
Both of these programs are offered in class or in online/blended formats, allowing CAF members and reservists from across Canada to complete their studies. Formalizing the training and education members receive while with the CAF is an asset when applying for a job with a civilian employer, said Lt.-Col. Christopher Hunt, commanding officer of the King's Own Calgary Regiment.
"Having the equivalence means that our members are not covering the same material that they know inside and out, and are very familiar implementing," Hunt said. "It's also important for people to know that they work they put in is being recognized more broadly. It reinforces pride in their accomplishment as well."
Under the Strong, Secure, Engaged initiative, the Department of National Defence has placed increased emphasis on increasing the number of regular and reserve members. The 41 Canadian Brigade Group has seen a net gain of nine per cent over the past two years, increasing to the current 1,600 members, van Weelderen said.
"Once they're with us, it's about how we reinforce that value proposition beyond service. Initiatives such as this are part of that effort to keep Canadians in uniform," van Weelderen said.
Now that there is a process in place to evaluate CAF offerings and determine equivalent offerings at Mount Royal, both parties said they are interested in exploring opportunities to expand to more programs in the future.
For more information, visit mru.ca/ProjectManagement, mru.ca/LeadershipDevelopment and the 41 Canadian Brigade Group.
June 4, 2018 ― Ruth Myles

Media request contact information.
Have a story idea? Please fill out this form.