Celebrating 15 years of Partnership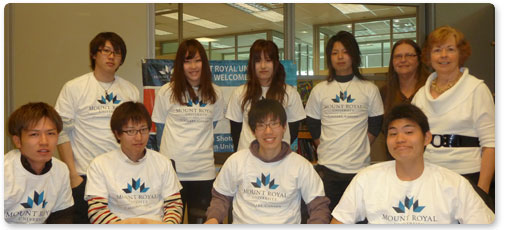 Mount Royal University and Gifu Shotoku-Gakuen University, Japan
Through this long-standing partnership, over 200 students from Gifu Shotoku-Gakuen University in Japan have come to Mount Royal University to take part in full-time English language programs offered by the MRU Languages Institute. The students are nominated by their university and supported financially by funds offered by the university and the government of Japan in an effort to improve the English language level and broaden the international perspectives of Japanese university students.
This partnership was initiated through a contact first established by Gifu Professor Takafumi Hirose and Heather Lee, at that time the Coordinator for the Office of International Education. Professor Hirose was taking groups of students to Thunder Bay, but in passing through Calgary, thought the nature of the city and its proximity to the Rocky Mountains would be of interest to students at his university.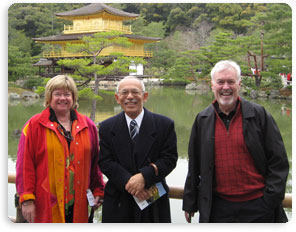 Lorna Smith, Director of International Education, Gifu Professor Hirose and MRU Past President visit Gifu Shotoku-Gakuen University in 2008.
After visiting MRU and meeting with the Office of International, it was decided to sign a partnership agreement. President Tom Wood visited Gifu University in 2000 to get the partnership discussions underway and sign the initial agreement. In 2008, President Dave Marshall and International Director, Lorna Smith, visited the University and had the opportunity to spend time with Professor Hirose and sign the agreement with the Gifu President for another five years.
"It is interesting to witness the development of the students over the year that they spend with us," says International Education Director, Lorna Smith. "They arrive for the spring semester (early April) and are very shy and reluctant to speak. By the end of the Summer Immersion English program in August, they are displaying so much more confidence in speaking and interacting with Canadians and the other international students in the summer programs. They are very active and like taking advantage of the sports facilities and options, particularly snow-boarding! It is a pleasure to have these students with us at Mount Royal and we look forward to many more years of partnership with Gifu Shotoku-Gakuen University."
The students live in carefully selected and screened home-stay families in Calgary and have the opportunity to learn more about Canadian life through that experience. Keita Tsuriya arrived in Calgary in April and says his home-stay family has made him feel welcomed and as if he is at home.
"My home-stay family is very good. There are two children and a mom and dad. They often play music and dance in their basement."
For Keita this match was perfect as a classical tuba player and singer in Japan, he really appreciates living with a family who shares his love for music.
"Music has a feeling it reminds us of our memory and experiences," says Keita. It is evident that Keita and his Calgary home-stay family will make lasting memories as they spend the next year together while Keita continues to study at MRU.
"My teacher is very good. I am learning a lot already." Keita says that this instruction and the diversity of his classmates will help him when he returns to Japan and becomes a high school English teacher.
Click here to view a photo gallery of Mount Royal and Gifu Shotoku-Gakuen University.