Journalism students take the long view of Calgary's 2026 Winter Olympics bid
Collaboration with Mount Royal alumnus example of a new reporting model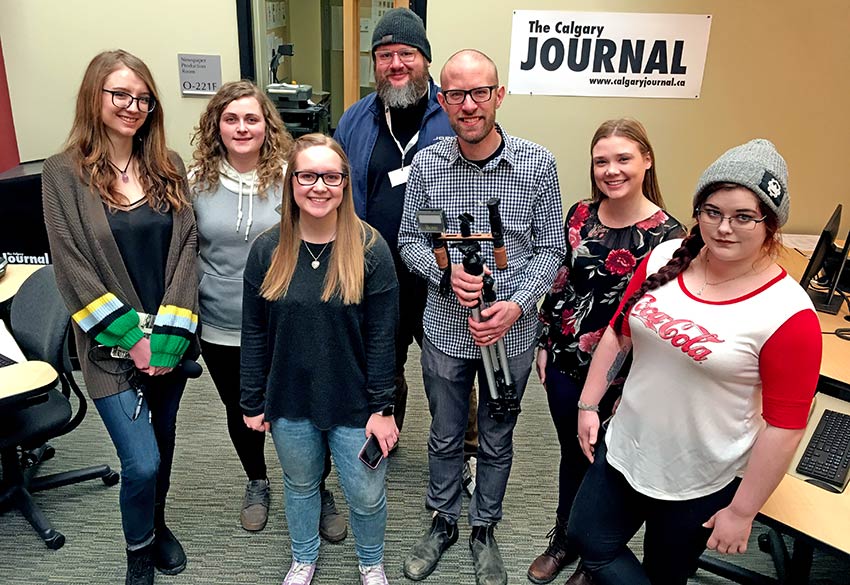 Mount Royal journalism students are asking the hard questions when it comes to the feasibility of a 2026 Winter Olympics bid. Third-year students in Professor Sally Haney's online journalism class have divided to conquer, delving deep into the subject along with a program alumnus and well-known independent Calgary journalist.
Because of a highly successful partnership with Postmedia that saw students blanket the city to provide municipal election coverage in the fall, plus another Postmedia collaboration in early 2018 (put into the works last semester) that had second-year students pen immigrant or refugee profile pieces (seven which ran in the Calgary Herald with others scheduled to be published by the CBC), Haney was looking for more opportunities to join forces.
Enter Jeremy Klaszus, who graduated from Mount Royal in 2006 with a Bachelor of Communication (Applied) ― Journalism. Klaszus is the founder of Calgary's The Sprawl, representing a new type of reporting he describes as "pop-up journalism."
"Collaborations are the name of the game in journalism right now," says Haney. The genesis of the Olympic bid project came about when her previous third-year class brainstormed a series of collaborative ideas in December in a Dragons' Den format. The Olympics 2026 pitch won.
"Before assigning the project to incoming group, I touched base with The Sprawl, and voila!" she says. Klaszus had been hoping to dive into that exact subject.
"This was a perfect fit," says Haney.
The Sprawl and the Calgary Journal's Olympic bid investigation have already put out several articles. The students are divided into five groups: Project Environment, Project Protector (which looks at security issues), Project Economics, Project Builder and Project Community Connectors.
"It's beneficial for students to get experience, it's beneficial for a small outlet like mine, because I have more people to help me do the work and it's beneficial for the public, as they are being informed," says Klaszus.
The gap in today's mainstream coverage, Klaszus says, is in-depth analysis, which has been declining over the last decade.
"(Collaboration) is totally the way of the future," he says. "It's not cutthroat competitive anymore, the landscape is just too devastated to do that."
Student Alannah Page is with Project Economics, which are "following the money," she says. "I think a lot more people are going to start turning to the smaller, local, well-researched stories."
Also on Project Economics, Stephanie Babych says, "It's not so much mainstream media and big corporations anymore. There are a lot of small start-ups that are managing to make a living and connect with the audience more."
Project Community Connectors team members are looking at how a new Olympic bid might either build up or break down social fabric in the city, says Curtis Larson, who is really enjoying the work so far.
"There's a lot of talk around the treatment of Indigenous people. It's really a pointed subject. We're even finding that in Vancouver - the newer Games - there was still a lot of bad management with regards to the Indigenous population, and even some outright political intrigue. It's hopefully something we could address and improve going into the future Olympic bids. How we plan, how we build and who we include."
The evolution of The Sprawl
Klaszus says the idea for The Sprawl came about in the summer after he "floated" an idea on social media about what might take the place of Calgary's Fast Forward Weekly (FFWD), which put out its final issue in 2015 after 20 years. FFWD, for which Jeremy wrote for 10 years, was without a doubt Calgary's favourite "alternative" news source.
People promised Klaszus that if he built it, they would come, and offered support from the outset.
"But I wasn't sure," he says. "Yeah, that all sounds good, to just 'start something,' but how do you do it in a way that is actually sustainable? And not for free?'" he laughs.
Klaszus met with a number of community leaders to ask what Calgary really needed, what his project could look like, what would resonate and what might actually serve the community. One of those people was Mount Royal's own Sean Holman, a journalism professor who was the founding editor of the innovative, award-winning British Columbia-based online investigative political news service Public Eye. Holman managed to sustain his own project for nine years, a lifetime for a small operation.
"(Holman said), 'If you're going to do this, you're going to have to find a new way, or a specific niche,'" says Klaszus. "I had a vague idea of 'public-interest journalism,' so I had to boil it down and ask 'What can I actually do, what's a format that might work, and that's how the idea of 'pop-up journalism' came about." Which is covering issues for a specific period of time, and doing a much more comprehensive job in that window.
Holman says, "I advised (Klaszus) that sustainability was important ― that he shouldn't focus on doing everything but instead should be targeted in his coverage. Doing everything is a surefire recipe for both mental and financial burnout.
"The idea of doing pop-up journalism allows him to accomplish both goals."
The partnership model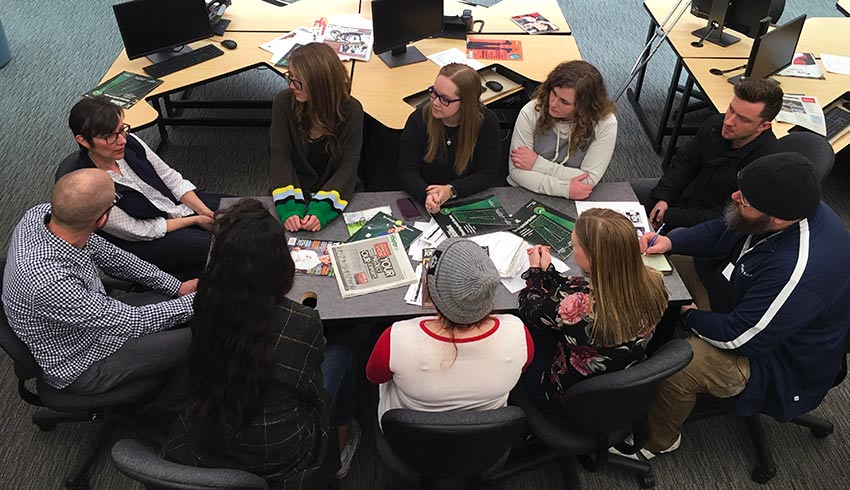 The second-year journalism student collaboration with the Calgary Herald and the CBC occurred under the guidance and leadership of Holman and fellow journalism professor Archie McLean.
"It's an amazing opportunity for our students to get exposure to working with some of the city's biggest news outlets," says Holman. "From a career standpoint, that means they get clippings that are vital when applying for newsroom jobs. But it also helps show them the power of journalism. We're telling stories that don't often get told. And we're shedding light on issues that often remain in the darkness."
Lorne Motley, editor in chief for the Calgary Herald and Calgary Sun, as well as a journalism alumnus who has been on the program's Advisory Board (of which he is currently the chair) for "probably more than 20 years," says, "These are great opportunities to showcase the students' work in the daily papers here, and get it to a broader readership. I like it because it helps the students, and it also help bring stories to life that are more difficult for us to do these days.
"(The students) did very well. I'm very happy with what's been done, and hopefully we can find more things to do in the future. And I'm pretty confident that we will."
For Klaszus, he says his experience at Mount Royal has helped him in many ways. "That well-rounded, multi-platform education has been super valuable, and I've drawn on almost every aspect of that regularly."
Keep watching the results of The Sprawl and the Calgary Journal's Calgary Olympic bid investigation.
Discover more about Mount Royal's journalism programand the School of Communication Studies.
Feb. 8, 2018 — Michelle Bodnar
Media request contact information.
Have a story idea? Please fill out this form.