Online learning 'a saving grace' for dedicated student
Mike Clermont completed 90% of his courses in Mount Royal's Supply Chain Management Extension Certificate online while working full-time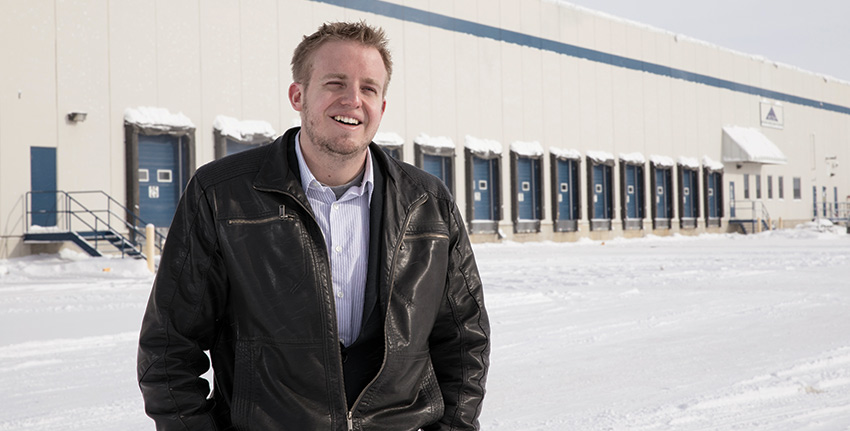 Mike Clermont became the general manager of a successful restaurant when he was 24. He enjoyed the work and learned a lot, but the Calgarian was focused on his long-term career.
"I was working 60 hours a week for $50,000 a year. I asked myself, 'How long can I keep doing this?' " Clermont recalls.
Exploring his options, Clermont enrolled in the introductory course in the Supply Chain Management Extension Certificate at Mount Royal, as he had a longstanding interest in the field.
"The instructor, Dwight Boehm, made it so fun, so interesting, I was hooked. I thought, 'I could probably do that for the rest of my life.' There are so many avenues you can pursue in a career in supply chain management."
Over the course of three years, Clermont took one course at a time, mostly online, while working full time. He completed his certificate in 2017. Both the Supply Chain Management and Supply Chain Management, Advanced, certificate programs are accredited by the Canadian Supply Chain Sector Council through its National Accreditation Program (the NAP).
"Despite no face-to-face contact, there was a ton of support. I felt like I was more part of the classroom online than in an actual classroom."
"I did 90% of my classes online because it made my life easier. Doing one class at time helped me focus in on that one class," he recalls. "Online learning was my saving grace. If I couldn't have done it through online courses, I don't think I could have done it."
Students have up to four years to complete their certificate. And credits earned in the certificates may be applied towards admission in the Mount Royal University's Bachelor of Business Administration (BBA). Now an operations planner, Clermont, 27, oversees western Canada distribution for a large multinational food manufacturer. He's loving his new career and appreciative that Mount Royal's flexible educational offerings helped him get there.
Although he felt some trepidation with online learning due to a past experience, Clermont clicked with the program and instructors right from the start.
"I really appreciated the instructors and all they did online. Despite no face-to-face contact, there was a ton of support," he says. "I felt like I was more part of the classroom online than in an actual classroom. The instructors make sure they respond to all your posts. They provide one-on-one support, as well as being involved in the group activities."
He's looking forward to where his new career will take him and he's focused on returning to management. For those considering supply chain courses or certificates at Mount Royal, Clermont says, go for it.
"It's certainly worth exploring. MRU teaches you all the different avenues of what you can do in supply chain. It really opened my eyes to how much is involved in it and how important supply chain really is to business."
For more information on Mount Royal's Supply Chain Management Extension Certificate, visit mru.ca/SupplyChain.
March 21, 2018 — Ruth Myles
Media request contact information.
Have a story idea? Please fill out this form.