Wise lessons from young minds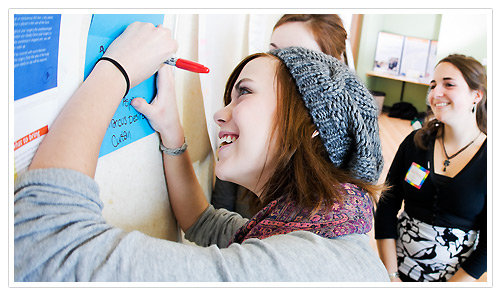 You know you are on to something great, when no one can believe that you are the first one to do it.
Mount Royal nursing instructor Andrea Pritchard, PhD, discovered just that when she embarked on her research into how children with chronic illnesses understand the role they play in their own health care.
It all started when Pritchard, who was working as a nurse with multiple generations of a family with the same illness, went in search of research and literature to help her improve her family-centred care giving.
"I realized that everything in terms of taking care of a family was done from the perspective of the health care providers and the parents or adult patients," says Pritchard. "I found nothing, not one thing, from the voice of the child. Mine is the first study done like this."
Finding their voice
Despite a global push towards family-centred care - which includes the guiding principles of mutual respect, information sharing, participation and collaboration - children were only involved in a superficial way.
"Quite often as a nurse, these children would come in and I would talk to their mother, father or guardian. I'd be very nice to the kids, but I wouldn't really involve them in a meaningfully way," admits Pritchard.
As a researcher, Pritchard set a goal of acquiring open, honest feedback from child patients. She made sure to check her preconceived ideas at the door.
"I was the learner and the children where my teachers," Pritchard says of her interviews with children ranging in age from seven to 11. "It is their voice, not mine."
She quickly learned that the young patients wanted to be involved in their own care but were not sure how to do so.
"When we started to talk about teamwork and partnership one girl said, 'Just because you're on a team doesn't mean you're good at it,' " says Pritchard. "She also asked me, 'How are we supposed to know how to be on this team if no one shows us how?' "
Mapping out success
Pritchard also discovered the children had good reason not to voice their opinions about their treatment.
"They pointed out that when adults in this situation talk to each other, they constantly interrupt one another. The children said, 'I'm a child and I'm not supposed to interrupt.' "
One result from her research and her collaboration with children - including the Child and Youth Advisory Committee at the Alberta Children's Hospital - has been the creation of a treasure map showing how children want to be involved.
The map starts with a spot labeled "Me, My Best Interests." Other spots on the map include such goals as:
trust
talking and listening
being involved
knowledge base
making good decisions
being connected
"What's interesting is that everything they identified, in terms of collaboration, is similar to what you see in executive business literature about collaborative partnerships.
"These kids have it figured out, but the problem is - until now - as grownups we weren't consistently involving them in a meaningful way."
Her research has made Pritchard a popular speaker at health care conferences around the world and with the media - she has been featured in print, radio and TV, including CTV's Canada AM.
"I wish I would have known this 20 years ago when I started nursing - I would have been a totally different nurse."
Pritchard has added the results of her research into the Mount Royal curriculum so her students can start their careers knowing how to involve children in their own medical decisions.
- Anika Van Wyk
Feb. 4, 2009