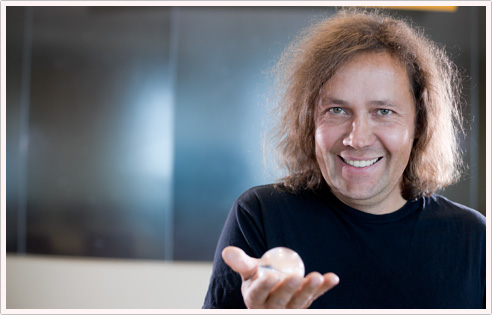 How good is your memory? Or better yet, how well do you remember to accomplish the things you planned to do at a specific time and place in the future?
That's what Associate Professor Bob Uttl has dedicated more than 20 years of his life researching, an ability called prospective memory.
"Just because you remember the plan to buy some groceries on the way home, today, right now, doesn't mean that you will remember it when you are passing by the grocery store," says Uttl to paint a picture of what prospective memory is.
Uttl, who joined Mount Royal University's Department of Psychology in 2009, is making strides in his research while elevating the University's profile as a research institution.
Research earns NSERC Discovery Grant
Through Uttl's research the University has earned its first Natural Sciences and Engineering Research Council of Canada (NSERC) - one of the three major granting agencies that support research in Canada -Discovery Grant which will provide Uttl with $135,000 over the next five years to continue his research.
When applying for the grant, Uttl said that three basic criteria had to be met.
"It's essential to have a good track record to get it," Uttl says, as one of the main criteria is scientific excellence of the researcher.
The second criterion is the merit of the proposal says Uttl, "so how useful and well developed the proposal is, how impactful it may be."
And the final criterion is training highly qualified personnel such as undergraduate and graduate students.
Measuring memory
Uttl says that despite the many years of research on prospective memory, there are some challenges when it comes to how prospective memory is measured.
Improving your prospective memory
So how do your improve your prospective memory? Uttl says that developing more elaborate plans will help you to remember to accomplish things in the future.
"To illustrate in retrospective memory [the ability to recall], if you make a list and make a connection between different items on the list, you will be able to retrieve the items on the list better than if you just read through the list," Uttl says.
"Similarly, in prospective memory, if you make connections between the plan [return a friend $20], prospective memory cue [the friend], and perhaps a context in which the cue is likely to appear [a party next Saturday], you are more likely to become aware of the plan when you encounter the cue in the future."

"In prospective memory, there is a huge problem of measurement," says Uttl. "One part of the grant actually focuses on how to measure prospective memory … how to develop better measures of it."
Uttl says that the current success/failure binary measures of prospective memory are problematic.
"The binary measures are very inefficient … there are some published and widespread findings which are simply not true," he says.
He cites an example of a study from 1990 that said prospective memory doesn't decline with aging.
"When you are using these success/failure measures you need hundreds and hundreds of people to actually see some trends or differences," Uttl says.
He is working on developing more reliable and valid methods of continuous measures of prospective memory that can move his research forward.
You must remember this
Where previous methods of measuring prospective memory relied on whether a subject remembered to do something or not, a plain yes or no response, Uttl is working on new methods based on an idea he had during his earlier research.
Calling it a simple idea, Uttl alludes to his previous example of remembering to stop at a grocery store on the way home to explain use of cues and how they impact prospective memory.
"Imagine you are driving home and there's a small supermarket, then there's a bigger supermarket, then 500 metres down there's a really big supermarket, another 500 metres down there's this huge supermarket … How intrusive does that supermarket have to be in order for you to realize you had a plan to buy groceries?" asks Uttl.
He says if your prospective memory is good, then presumably you should respond to the small supermarket.
Conversely if you have poor prospective memory, then you need more intrusive cues to trigger your memory.
Memory and aging
In addition to developing new ways to quantify the ability of prospective memory, Uttl says the grant also funds new studies he will be conducting on how the ability declines with aging.
"We know it declines, that's pretty certain, but it's about the degree and pattern," he says.
Uttl is investigating whether there is an increase in memory decline beyond a certain age or if there is a steady linear decline.
That research is keeping him busy, especially since previous measurements have proven unreliable.
- Fred Cheney, Aug. 25, 2011