Pursuing her passion pays off
Mount Royal's Entrepreneurship Certificate helped store owner refine her vision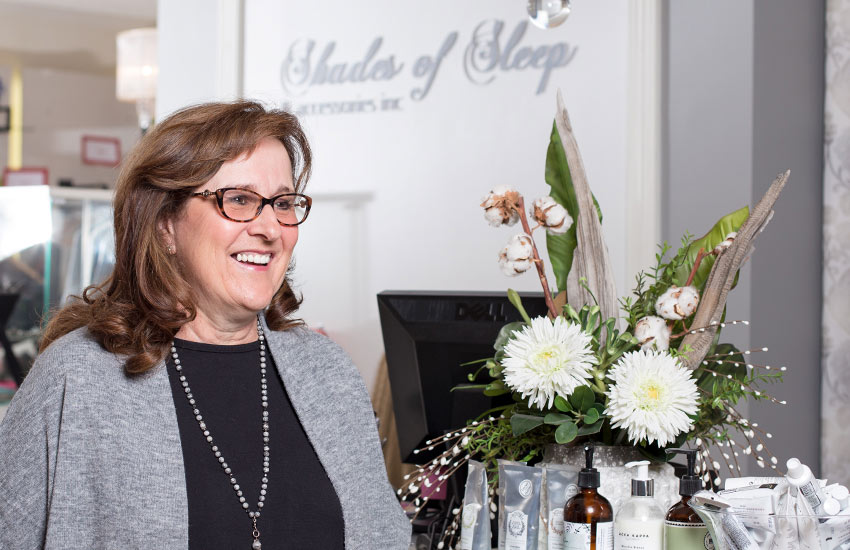 When Sheila Connell hit her now-or-never moment after 30 years as a paralegal, she seized the opportunity and never looked back.
Sheila pursued her interest in interior decorating at Mount Royal University, pairing the program with MRU's Entrepreneurship Certificate before establishing Shades of Sleep & Accessories Inc. in 2010.
"The Entrepreneurship courses fine-tuned the process: How do I take this idea and make it work? What skills do I need to open this business? And then there's understanding your customer, understanding products, sourcing quality products and finding out what your customers' needs are," says Sheila, standing in the sun-filled foyer of her Inglewood store. "It's really going to make you stop and think: Is this a worthwhile project? The program helps focus your vision and see if it can be a profitable business."
Since opening Shades of Sleep - which has evolved from custom bedding to all luxurious goods related to a good night's sleep - Sheila draws on the knowledge she gained in the Entrepreneurship program as she navigates Calgary's challenging economic environment.
"The program gives you all the basic tools so you can take them and make them work for you," she says. "Your business should always change to meet the needs of the customers while staying true to your original vision. That is the challenge. And underlying it all must be a true passion for what you do."
Developed and delivered by small business experts, the certificate is composed of six mandatory one- and two-day in-class courses that culminate in Presenting Your Business Plan. Topics covered in the hands-on, results-oriented courses include marketing, human resources, managing risk and financial planning. While some participants come into the program knowing exactly what they want to do, others like Sheila fine tune a broad idea into a specific goal.
"It will refine your vision. There were also those who took the course who realized that their idea wouldn't go further. And the program also delivers a reality check on the workload and commitment needed to succeed."
As she's married to an entrepreneur, Sheila had an understanding of the sheer workload it takes to create and launch a new business. Armed with her knowledge from MRU, she came down resoundingly on the "now" side of that now-or-never moment.
"Most people who start their own business are between 20 and 40. I started this when I was in my 50s," Sheila says. "It was overwhelming. It was a lot of work. We did all the renos ourselves and it was tough. But I just knew that I didn't want it to be 20 years down the road and saying, 'I wish I had.' "


For more information on Mount Royal's Entrepreneurship Certificate of Completion, visit mru.ca/Entrepreneurship.


Nov. 15, 2017 — Ruth Myles
Media request contact information.
Have a story idea? Please fill out this form.