One International Experience Leads to Another
Mount Royal University's Religious Studies professor Steven Engler's interest in Brazil dates back to his teenage years. In grade 11, he was selected as a Rotary Exchange student and studied for one year at a high school in the small town of São João da Boa Vista, in the state of São Paulo. It was in this town that he began his journey learning the Portuguese language, studying the culture of Brazil, and where he met his future wife, all leading to a passion: the study of Brazil's many religions.

This past August, Engler was contacted by one of Mount Royal University's bilateral partners, Universidade Pontifícia Católica de Campinas (PUC-Camp), and invited by their Religious Studies graduate program to teach a short-term course and mentor students on their graduate work.
It was an intensive three-day trip that involved Engler giving four two-hour lectures on themes in Religious Studies to a group of 20 graduate students, as part of their coursework, and to several faculty members. Engler then met individually with seven graduate students to discuss their research projects and provide feedback on their work in progress. The trip to PUC-Camp allowed him to connect further with colleagues in his field in Brazil and to see how a young and growing graduate program is doing.

"I especially enjoyed working with some Masters students, seeing what kind of research projects they are engaged in and discussing issues of methodology and different analytical approaches," reflects Engler. "I remember that such discussion made a difference when I was a graduate student, and it feels great to be able to pass on some of the knowledge and experience that I have gained over the years."
In addition, Engler met with all Religious Studies faculty members to discuss the current partnership between the two universities and interest in further collaboration.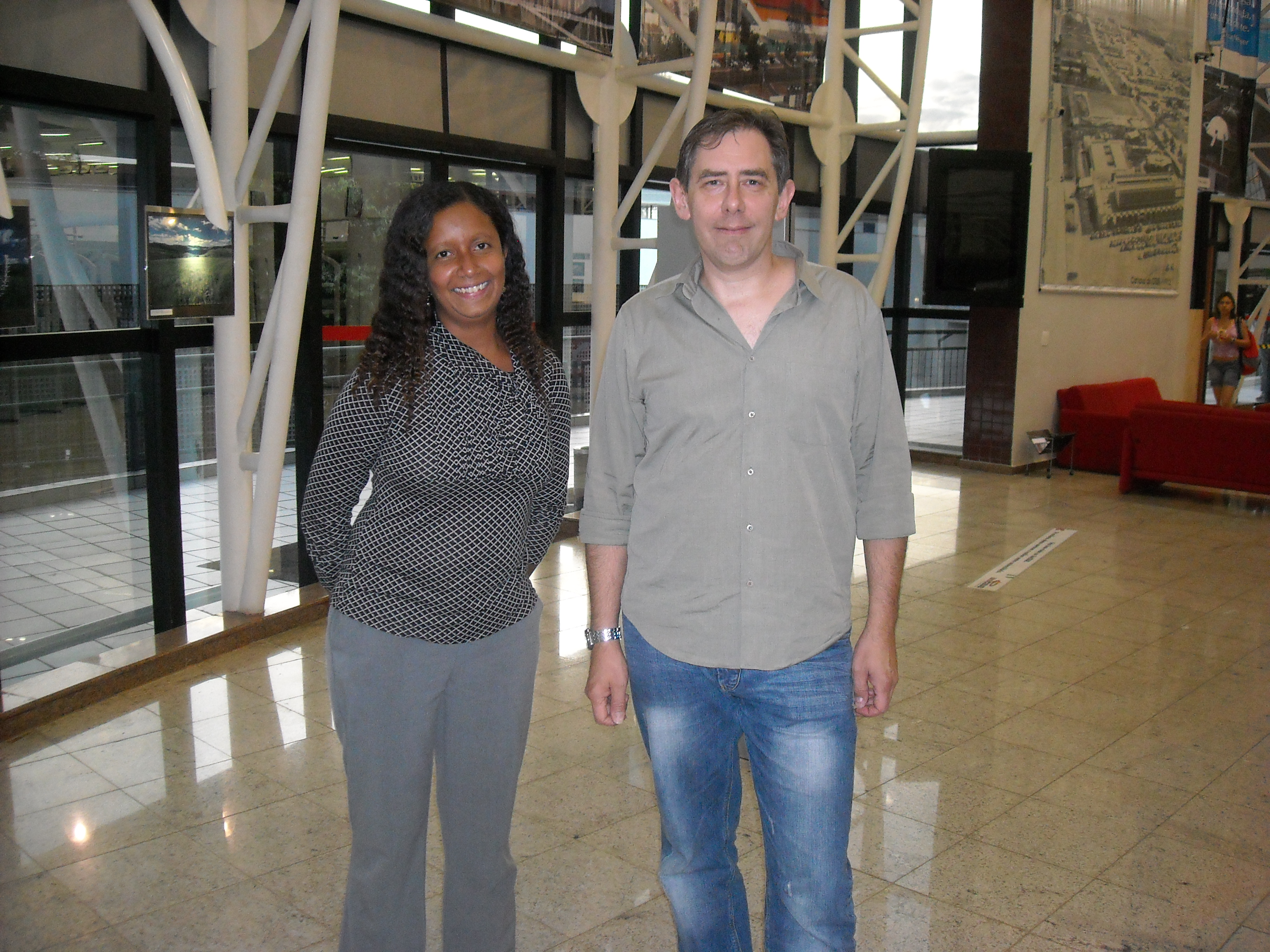 Religious Studies professor, Steven Engler with Renata de Melo Rosa, coordinator of the graduate course in International Relations, during a visit to UniCEUB Centro Universitário de Brasília
International Research and Collaboration, a Benefit to Mount Royal and its StudentsOne of Mount Royal University's International Strategies on International Research and Collaboration states that "Global problems increasingly require global research and solutions, as well as scholars at ease with collaborative research on an international scale. Undertaking research and scholarship allows MRU faculty to develop new knowledge and take that new knowledge back to the classroom."
Steven Engler is doing just that through his long-standing and continued international work and collaboration. Steven works on theories of religion, on methodology, and on religions in Brazil, and his scholarly outcomes include 135 publications, among them a book in final revisions and four co-edited books, in addition to many journal articles, book chapters and encyclopedia articles, several written in Portuguese.
Add to that seven keynote addresses and 77 international presentations, including conference papers, invited lectures, symposia and seminars, as well as many presentations at local, regional and national events. Engler has presented his work in Brazil, Canada, Germany, Italy, Japan, the Netherlands, Norway, Slovenia, Sweden and the United States, and he has received fellowships from government agencies in the United States, Japan and Brazil.
In total, Steven has spent five years working and studying in Brazil, including a two-and-a half-year stint teaching in the graduate program of Religious Studies at Universidade Pontifícia Católica de São Paulo.

"It is exciting to see how his international endeavours at a young age have led to further opportunities and a lifelong academic career with such international focus," says Dianne MacDonald, Manager of International Education at Mount Royal. "It is inspiring to our students, many of which are only just beginning to gain international experiences through Mount Royal."Internationalizing the CurriculumFaculty at Mount Royal enrich their courses by bringing global cultural and research information to students through their international research work and networks. Curriculum that includes an international dimension increases options for Mount Royal students to acquire the skills and knowledge to perform competently, both professionally and socially, and provides an opportunity to develop global perspectives and skills even without leaving Canada.
Engler's variety of international experience and focus on religions in Brazil brings many benefits to the Mount Royal Community. His research and work in Brazil have allowed him to teach differently, with an international perspective.

"I have shared my Brazil Research with students here," says Engler. "I find that I am able to teach my courses in a more communicable and engaging way, because of my experience and insights in Brazil."

Marisa Norona - December 2015