Dunk and bunk - Residence Services welcomes Acrodunk
Houston-based dunk squad returns to Calgary and Mount Royal University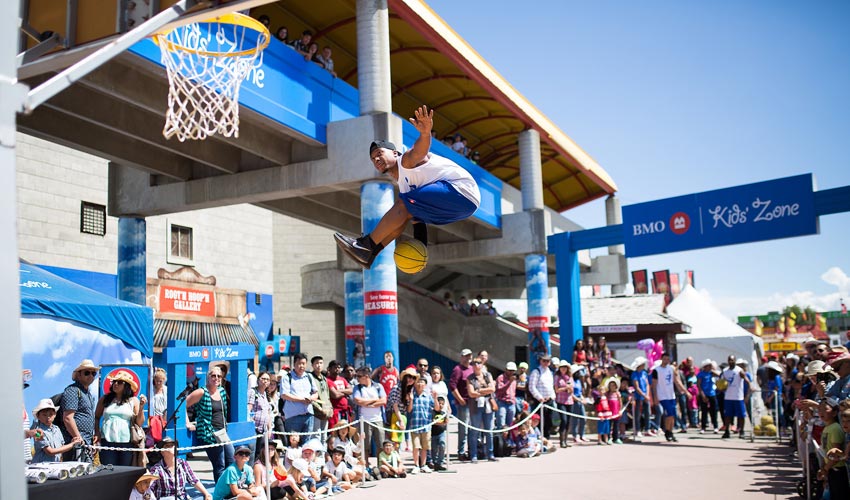 When they're done amazing thousands of Calgary Stampede attendees with their acrobatic slam-dunking show each day, the Acrodunk team heads back to a comfy four-bedroom apartment on Mount Royal's campus.
This is the fourth year that Jerry Burrell, the Acrodunk leader, has booked rooms with Mount Royal's Residence Services.
"We get good, safe, reliable accommodations at a fair price," says Burrell.
For $54.50 per person per night, the team has four bedrooms, two bathrooms, a kitchen and a living room all to themselves. They can get to their performance venue in under 15 minutes, and the group appreciates that there are good restaurants, a mall and a grocery store minutes from their accommodations.
"It's great. With the full kitchen, we can fill the fridge right up while we're here," says Greg Mueller, the spokesperson for the four-man team, which includes himself, Andrew Cyrus, Richard Smith and Guy Jackson.
The squad also has a 15-passenger van and they often pull a trailer, which can be parked on campus with no complications or concerns.
The other benefit of staying in Residence is that campus gym facilities are a big step beyond what any hotel can provide, plus guests get a 25 per cent discount on day passes with Recreation.
This is important for Acrodunk because they are on the road touring around North America all year long.
"We do acrobatic slam dunking and physical maintenance is a must. Having the gym on campus with great equipment is a plus," explains Burrell.
"Everyone we've had the pleasure of interacting with at MRU has been helpful and accommodating," he continues. "We feel very safe staying here and appreciate the attention to security details. Last but not least, it's a cool, vibrant community and we feel like we fit."
Stampede is indeed a busy time for Residence Services staff. According to Ashley McLellan, administrative assistant at the front desk, some days as many as 200 people will check in at a time.
Along with performers, Stampede visitors take advantage of the three hotel rooms on campus, which are a steal of a deal at under $100 per night.
Check out the acrobatic slam dunk masters at the BMO Kids' Zone from July 6 to 15.
Get more information on guest accommodations at Mount Royal.
July 5, 2018
Media request contact information.
Have a story idea? Please fill out this form.