Students and public join forces to safeguard wetlands
Addressing real world problems through citizen science

There are over 4,000 wetlands in the city of Calgary that are depended on by humans, amphibians, insects, birds and many other species. They are an essential part of nature's infrastructure, playing a significant role in contributing to the water cycle while also filtering sediments and pollutants and lessening the impacts of floods and drought.
But, sadly, their natural benefits are often ignored and many wetlands in the city have been lost over time due to development, construction, fragmentation, pollution and climate change.
"There is a lack of education on the importance of wetlands. The general population doesn't quite understand why they are there," says fifth-year Mount Royal University student Cameron Egler, who is pursuing his major in biological anthropology.
"The general knowledge from most of the public…was that they assumed [wetlands were] just a giant, smelly nuisance," he says.
"They just want to see how to get rid of them."

To address this lack of awareness, Dorothy Hill, a professor in the Department of Biology at Mount Royal, asked her Conservation Biology (BIOL 3108) class to develop community service learning projects for the Miistakis Institute, to be used as educational materials for the Institute's "Call of the Wetland" project. Recently, two of those projects culminated in poster presentations at the Under Western Skies environmental conference held on campus from Sept. 27 to 30.
Involving Mount Royal students is part of the mandate of Miistatkis, which is a research institute affiliated with Mount Royal University that aims to make innovative conservation research accessible to communities and decision makers.
"When you think of Calgary you don't think of wetlands," says Tracy Lee, a senior project manager with the Miistatkis Institute. "It's been quite eye opening how many wetlands we actually have. Some are in good shape, some are compromised.
One poster project demonstrated the value of wetland ecosystems and biodiversity in Calgary's communities. Hill says they are so important that the City of Calgary is now building artificial wetlands to replace those previously demolished during the city's construction. And their benefits, called "ecosystem services", come at no extra cost to humans.
"If we make use of those benefits, it's a win-win scenario," says Hill.
Amphibians in Calgary?
In an effort to identify links towards the potential restoration of wetlands, students have also generated content for the Call of the Wetland website and mobile application that enables the public who use the City of Calgary parks and pathways to report amphibian sightings. The website and app (going live in April 2017) will be launched in association with the new Rotary/Mattamy Greenway Project, a 138-kilometre network encircling the entire city that will feature a collection of wetlands and educational interpretive areas.
The finished product will allow the public to register and survey certain wetlands by following a set of instructions. Results of the surveys will allow us to understand where different amphibian species are occurring within the city of Calgary.
"This is information that we don't have," Lee says. "No one has done monitoring of amphibians across the city of Calgary before, and certainly not by engaging the public."
Lee says they hope this leads to a greater understanding and protection for wetlands.
From a scientific perspective, the objectives of the project include: a full species list of amphibians within the city of Calgary, and understanding where different species are occurring and why.
Through citizen engagement, the intention is to gather information to take appropriate measures for conservation efforts.
Hill indicated the global decline of frogs, toads and salamanders due to the destruction of wetlands also motivated her Conservation Biology Class to get involved.
Currently there are six amphibian species in the surrounding rural landscape. Three are listed to be at risk. Additional student content may be used to help protect amphibians from the Chytid fungus - Batrachochytrium dendrobatidis - which is spread through humans, usually from their boots or shoes tracking through the mud and from the pet trade.
Chytid fungus kills amphibians by blocking the pores in their skin, ultimately leading to an electrolyte imbalance. It is the most significant threat to the world's montane amphibian populations.
"As of yet, we haven't had a major outbreak in Alberta," Hill says. "But we want to avoid that."

Societal benefits tangible and real
The long-term outcome of the project and students' work is to create knowledgeable citizens within Calgary who will contribute to wetland protection and restoration.
"We have a science need where we don't know which species are occurring where," Lee says. "We have an engagement need where we want citizens to understand the importance of wetlands in the city and what's happening in their community."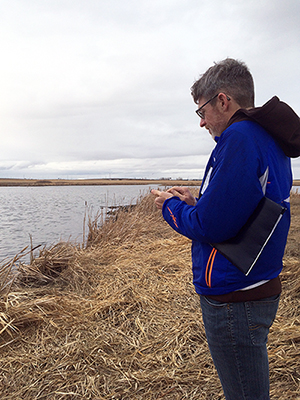 The students were able to utilize their education in a practical way, outside of the classroom.
"That's why it was such a cool project," Egler says. "The whole idea of community engagement and including the public in conservation, I think it's great."
For Hill, she is thrilled her students were able to apply their ecological knowledge to a real world project and connect to their community. "This is a project where the students' work is actually going to be used by a third party," Hill says. "That's helpful for them, but, also, the students have a lot of pride in knowing someone else is going to make use of their work." For the students, the practical application of their research was gratifying.
"It makes us value our education a little bit more knowing that it makes a difference," Egler says. "It went beyond just doing it for marks, it had more of a purpose."
If you are interested in participating in Call of the Wetland as a volunteer, please contact tracy@rockeis.ca to learn more.
Oct. 11, 2016 ― Jonathan Anderson