Scotiabank's gift to International Education helps Mount Royal students become global citizens
On Oct. 18, 2013, a rich medley of international music and food invigorated the audience as Scotiabank unveiled the largest donation to International Education in Mount Royal University's history. Pledged over 10 years, Scotiabank's gift of $500,000 will make international experiences a real possibility for hundreds of students by offsetting the significant costs of studying and living abroad.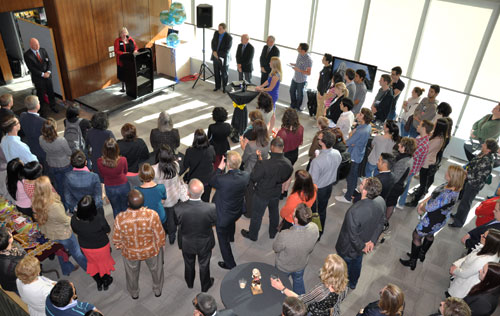 The assembled crowd celebrated the announcement in Bissett's second floor atrium.
Thanking Scotiabank for its generous donation, University President David Docherty, PhD, spoke of the enormous benefits international education brings to students and to the community as a whole.
"Students who have the opportunity to study abroad return with cultural competencies that enrich not just their own educational experience but the campus as a whole," says Docherty. "It's a great day for Mount Royal, and a great day for Mount Royal students."
Open to students from all disciplines, the Scotiabank Student International Experience program will provide awards to help students afford international exchanges, faculty-led field schools and internships.
Scotiabank's longstanding commitment to international education
This gift marks the second time Scotiabank has invested in international experiences at Mount Royal. A donation of $200,000 in 2003 was instrumental in helping 200 students from across all faculties participate in academic exchanges and international work experience terms.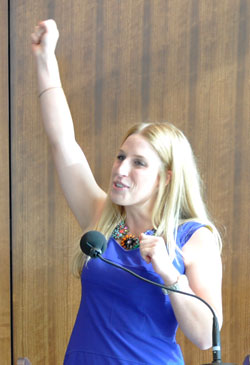 Alena Schock pumps her fist in celebration during her address to the crowd.
"Scotiabank is proud to support international education at Mount Royal University through our Bright Future philanthropic program," says Janice Church, Scotiabank's district vice president for Calgary. "As Canada's most international bank, Scotiabank understands the importance of developing a global mindset. By helping students make international experiences a reality, we are investing in youth so they have the skills and experience to navigate our increasingly interconnected world."
International education brings high rewards…and high costs
Alena Schock, a fourth-year Bachelor of Business Administration student, knows the value of international education first-hand. A 2012 recipient of the Scotiabank Global Experience Fund, Schock described her experience studying at Lingnan University in Hong Kong as an essential part of her degree program.
"I gained so much more than I expected," recalls Schock. "Having the opportunity to listen to and reflect upon different international perspectives was a turning point for how I look at the world."
Schock credits her experience with giving renewed focus to her studies.
"Hong Kong really allowed me to reflect on what I want out of life, and now I'm actively seeking ways to achieve my goals," says Schock. "It gave me so much more drive to be successful in university and in my career. I came back an entirely different person."
Schock's story is not unusual: international education is a transformative experience, exposing students to different cultures and enabling students to learn new languages and gain confidence and self-reliance.
But with international experiences costing students a minimum of $5,000, many students cannot afford the expense of studying abroad.
"Most students don't have the money to pay for a plane ticket, to pay for life in another country and to pay for their life back home," says Schock. "That's why grant programs like the Scotiabank Student International Experience program are so essential. They help students see international experiences as a viable option as opposed to a financial burden."
International experiences a priority for Mount Royal University
Since its beginnings as a department in 1990, International Education at Mount Royal has grown exponentially.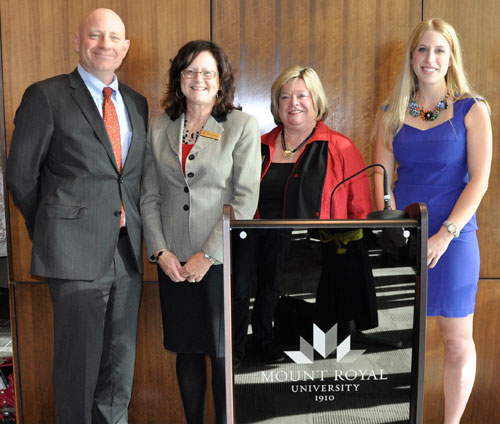 From left to right: Mount Royal President David Docherty, Scotiabank's District Vice President for Calgary Janice Church, Director of International Education Lorna Smith and BBA student Alena Schock.
In 2010, Mount Royal was recognized by the Canadian Bureau of International Education (CBIE) with the Award for Internationalization Leadership. Mount Royal has forged partnerships with more than 80 universities from across the globe that enable students to earn credits while spending a semester abroad.
Going forward, Scotiabank's donation will play a pivotal role in supporting Mount Royal's ongoing commitment to international education, creating more opportunities for students to broaden their worldview and experience diverse cultures.
Expressing her gratitude to Scotiabank, Lorna Smith, director of International Education, emphasizes the importance of Scotiabank's gift to both Mount Royal students as well as the community as a whole.
"Not only do students return from their international experiences with a deeper understanding of their academic discipline, but they also gain an international perspective that makes them more innovative, resourceful and engaged employees and citizens," says Smith.
"International exchanges enhance the educational experience for everyone. We're so very thankful that Scotiabank has renewed its commitment to helping students gain an international education."
Collette Burjack - Oct. 18, 2013