Cut your post-secondary stress
Attend A Long Night Against Procrastination on Nov. 14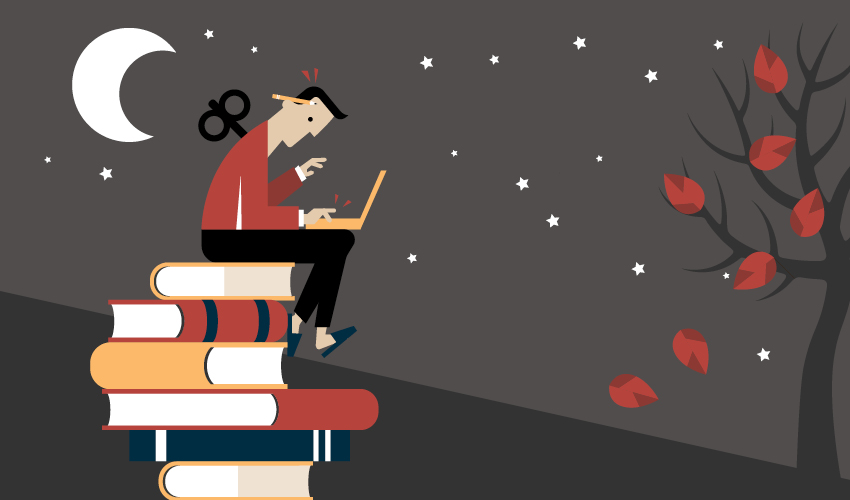 Mount Royal University's second Long Night Against Procrastination is taking place at the Riddell Library and Learning Centre on Wednesday, Nov. 14 from 4 to 10 p.m. This student-focused event will offer support on a variety of fronts to help reduce the pressure that arises as the semester barrels towards its finish in December.

"The goal of Long Night Against Procrastination, or LNAP, is simple: mitigate the inevitable pressures of the end-of-semester crunch and support student learning when they need it most," says Marc Lynch, writing and learning strategist for Student Learning Services.
The six-hour event is designed to have something for everyone, with sessions being hosted from a number of campus services.
"There will be a variety of stress-relieving activities, such as free massages, yoga and wellness activities," says Lynch. The academic support aspect will include drop-in research help from University librarians and subject-specific study time with Student Learning Services.
A full list of LNAP session can be found here.
Why LNAP?
By November, most University students have an idea of how their semester will unfold. The sessions offered at LNAP will give students strategies to get back up to speed with course work they may be struggling with, or at least take a short break from the grind of post-secondary.

"Students can hopefully use what they've learned or experienced at LNAP to be proactive rather than reactive and, ultimately, to persist and have a positive end to their semester," says Katharine Barrette, associate dean, public services of the Library.

LNAP is free and Mount Royal students are encouraged to attend. Come prepared to enjoy the camaraderie and activities. Refreshments from Barrow Espresso will be on hand. No registration required - just show up.
Nov. 5, 2018 — Rob Petrollini
Media request contact information.
Have a story idea? Please fill out this form.