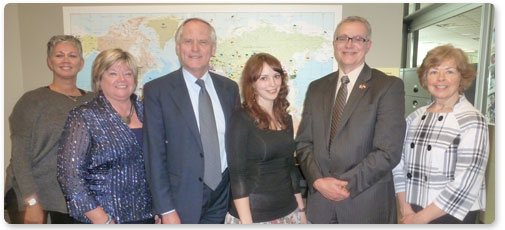 Veronika Werl, from FH Joanneum University of Applied Sciences in Graz, Austria came to Canada to increase her understanding of the Canadian business realm; little did she know that she would make lasting friendships and connections for the future. Studying abroad for a semester is a mandatory component at FH Joanneum for all students in the International Business Management Program.
"I think it's great because you can gain international experience and understand business in another culture. Students have the opportunity to study close by in the European Union or can travel further to North America or Asia if they wish."
"I was really interested in going to Canada, especially to practice my English. I have been studying English for over 10 years but haven't been to an English speaking country. Of all the partners that my University offered in Canada, Mount Royal seemed like the best."
Immediately, Veronika knew she had made the right choice. "I really like the university. The class sizes are even smaller than my university, which normally has classes of about 50 students."
In addition to the class sizes, Vernonika was surprised how approachable and friendly the professors were. "I was really impressed with my professors. I felt they were very competent and very familiar with the students."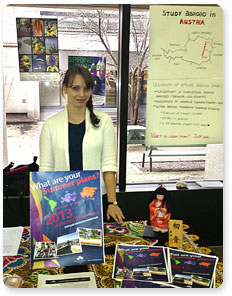 Veronika promoting her University on MRU's Main Street on April 8.
For Veronika, the classroom experience coupled with her time living in Mount Royal Residences made her time in Calgary memorable.
"I live with three Canadian students and find that I am actually hanging out more with the Canadians then the international students." In addition to experiencing the typical Calgary tourist attractions, Veronika's Canadian friends took her around Alberta to see some of the rural areas.
"On our way to Drumhelller, we stopped to stay for a night on my friend's farm near Acme. It was really fun." She hopes that one day she will be able to return the favor and tour her Canadian friends around Austria. "Well, I have invited them all to Austria, so I hope they can come."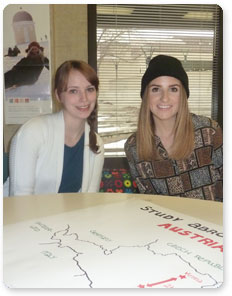 Veronika met with Meghan Schimpf who is planning on studying in Vienna next winter.
Representing Austria
In an attempt to attract more students to study in Austria, Veronika set up a promotional booth on MRU's Main Street on April 9th and offered an information session for prospective exchange students. Megan Schimpf, MRU Public Relations student, attended the session where she found out all about the Austrian culture and had the opportunity to ask specific question about her upcoming semester abroad at FH Wien University of Applied Sciences for Communication and Business Management in Vienna.
Austrian- Canadian Relations
On Monday, April 15, the Austrian Ambassador of Canada, His Excellency, Arno Riedel, and the Honourary Consul for Austria in Alberta, Nikolaus Demiantschuk visited the Office of International Education to talk about current partnerships and other collaborations. Veronika attended the meeting and talked to the Ambassador about her experience at Mount Royal and the importance of continuing relations with Canada, Calgary and Mount Royal University.

- Andrea Morrow, April 2013