MRU Welcomes Representatives from the China Guanghua Nurse Fund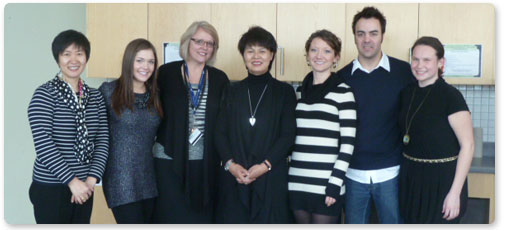 On December 7, 2012, MRU hosted officials from the China Guanghua Nurse Fund. The visit to Alberta by Ms. Lihua (Lisa) Gong, Secretary General, Ms. Liu Hua (Monica), Director of Foreign Affairs Office and Ms. Jenny Luo, Alberta China Office, was coordinated by the International and Intergovernmental Relations Branch of Alberta Enterprise and Advanced Education (EAE).
The group was hosted by MRU International and the Department of Nursing. During their visit, the group was able to reconnect with MRU nursing faculty members Joanne Bouma and Jocelyne Rempel and nursing students Shaina Orr and Nabil Rombaugh who had travelled to Beijing and Tianjun, China in June 2012 to participate in the China Nursing Skills Competititon which was sponsored by the Ganghua Fund.
The officials also previewed the MRU-developed on-line program "English for Nursing" and expressed interest in purchasing these tutorials for use in developing English language skills for nursing students and professors in China. The group was joined for lunch by Alberta Associate Minister of International and Intergovernmental Relations, Hon. Teresa Woo-Paw, who had also met the Officials previously while on an Alberta government mission to China led by Premier Alison Redford in September, 2012.
- Lorna Smith, December 2012