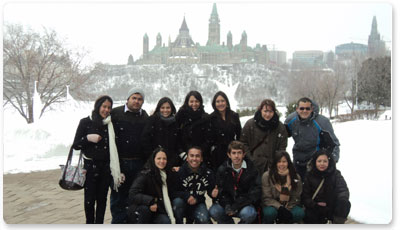 For Daniel Lozano Toscano, from Universidad de La Salle in Colombia, finding out that he could come to Mount Royal University on a scholarship meant he could live out his childhood dream of coming to Canada.
"I have been impressed with Canada since I was a kid. Growing up, I always talked about Canada and dreamed of what it would be like to live there. I was so happy to find out I could go to Calgary to study at Mount Royal University."
The Emerging Leaders of the Americas Program
This year, Daniel was one of four students from Colombia at Mount Royal to receive a scholarship from the Emerging Leaders of the Americas Program (ELAP). The prestigious award is a federally funded initiative that seeks to support the development of human capital and the next generation of leaders in the Americas while strengthening the linkages between postsecondary institutions in Canada and Latin America and the Caribbean.
Daniel is definitely an emerging leader. At his university in Colombia, Daniel represents the students from the School of Economic and Social Sciences to ensure processes are in place and the student body is able to communicate their perspectives.
"I meet and talk with my classmates so that I can represent their concerns and ideas on the Board at our last meeting we decided to introduce a new program within our Faculty. It has been a great experience."
Having this leadership experience on his Campus, Daniel knew that the ELAP scholarship program would allow him to continue to develop his skills and gain an intercultural experience.
Leadership in Canada
As soon as he got to Mount Royal, Daniel began looking for volunteering opportunities on campus.
"I helped out with the MRU triathlon and Career Fair here and I have been tutoring the other international students who are studying Spanish here at MRU. It has been a great way to meet people and learn here."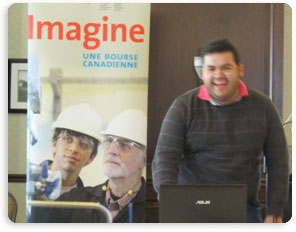 Daniel presents at CBIE meetings in Ottawa.
In March, Daniel was asked to travel to Ottawa to participate in a Canada- Colombia and Ecuador meeting by the Canadian Bureau of International Education (CBIE). During his 3 days in the capital city, Daniel attended meetings and forums on relationship building and even presented on Colombian student capital and the importance of investing in programs like the Emerging Leaders of the Americas Program.
"I was really nervous. The Colombian and Peruvian Ambassadors were both there. But I think I did a good job."
Daniel said the meetings allowed him to voice his opinion about the importance of investing in education and gave him the opportunity to meet many other ELAP students from Ecuador and Colombia.
"I had the opportunity to speak in French. I had studied French in my university but have never practiced it. It was great to practice it with the students who are studying in Quebec."
Daniel says that his time in Canada has made him realize the importance of knowing other languages and creating partnerships between different countries.
"I'm now ready to use all I have gained from this experience in my professional life. I aspire to work in an international environment as this experience has given me some skills and abilities to do so."
- Andrea Morrow, April 2013